Bundle Inverter automates 4-panel printing.
Press Release Summary: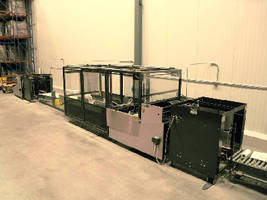 Inserted between 2 Iconotech Case Printers, Bundle Inverter 3636 facilitates 4-panel printing by collecting cases from first printer, inverting, and inserting them into second printer without adding labor. Once in inverter, cases are squared, gripped by cut edges, and rotated 165° where clamps open and cases are deposited directly into magazine of second Optimizer for printing other 2 panels. System can be run at operating speed of 60 cases/min.
---
Original Press Release:

Iconotech Automates 4-Panel Printing



CLINTON, CT (May, 2009) - Iconotech, the only name in Generic Case Printing, announces their new Bundle Inverter 3636, making four-panel printing possible with the fast and flexible Iconotech Case Printing Systems.

Inserted between two Iconotech Case Printers, the Iconotech Bundle Inverter 3636 facilitates four-panel printing by collecting the cases from the first printer, inverting and inserting them into the second printer without adding labor.

"We have a system that in this application, utilizes two Optimizer case printers and restackers with the Bundle Inverter 3636 in-between", said Jan Tornes, Senior Engineer at Iconotech. "Both Optimizers are outfitted with strip feeders to accommodate a wide range of case sizes. An operator places bundles of flat cases into the first Optimizer case printer. Cases pass under the print cylinder which imprints a major and a minor panel and exit to a re-stacker where they are collected in batches of sixteen cases and sent to the inverter. Once in the inverter, the cases are squared, gripped by the cut edges and rotated 165 degrees where the clamps open and the cases are deposited directly into the magazine of the second Optimizer for printing the other two panels. Both machines are completely synchronized but can be run independently as well. Cases exiting the second machine are batched in a traditional bundle size of twenty-five. One operator can run this system at an operating speed of 60 cases per minute".

Iconotech case printers are made in the USA. Headquartered in Clinton, Connecticut, Iconotech is recognized as a leader in case printing solutions for the secondary packaging market. For more information, please contact Linda Bertelsen, Iconotech, P. O. Box 918, One Heritage Park Road, Clinton, CT, 06413, call 800.521.0194; fax 860.669.5109; e-mail lbertelsen@iconotech.com, or visit their web site at www.iconotech.com.

More from Agricultural & Farming Products