Flexible Intermediate Bulk Container (FIBC)
Bulk Container packages and handles dense products.
Press Release Summary: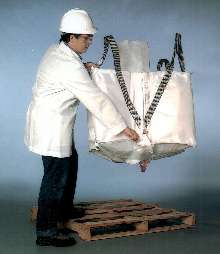 Super Sack® FIBC is composed of exterior double-walled woven polypropylene, internal baffle design, and reinforced stitching for maintained square shape and stackability. Lift loop design allows for forklift access and package handling. Remote Open Discharge permits operator to safely discharge bag and maintain control of product flow. Bag can handle over 2,500 lb with 5:1 safety ratio. It is suitable for plastic and metal parts, metal powders, and coins.
---
Original Press Release:
Super Sack® Container for Dense Products

Great Bulk Package for Plastic and Metal Parts, Metal Powders and Coins

Dallas, TX---B.A.G. Corp. offers its new, patented FIBC (Flexible Intermediate Bulk Container) that is specially designed for the packaging and handling of dense products, such as plastic and metal parts, metal powders, and coins. This specialty Super Sack® container construction is composed of exterior double-walled woven polypropylene, internal baffle design and reinforced stitching for strength, durability, maintained square shape and stackability. The "always ready" patented lift loop design allows for easy forklift access and package handling. The R.O.D. (Remote Open Discharge) permits the operator to safely discharge the bag and maintain control of product flow. The bag can handle over 2500lbs with a 5:1 safety ratio.

About B.A.G. Corp.

B.A.G. Corp.® is the single source solution for all bulk packaging needs since 1969. B.A.G. Corp. develops and manufactures Super Sack® containers, woven polypropylene flexible intermediate bulk containers (FIBCs) for the shipping, handling and storing of dry, flowable and fluid products. The company also produces specialty liners for boxes, drums and FIBCs. Other members of the B.A.G. Corp. family of companies include: FIBC Recycling, Inc., which cleans and reconditions FIBCs in a closed-loop system and disposes of bulk bags in an environmentally friendly manner; and Winzen Film, a specialty film extruder that also produces multi-filament thread and webbing.

For more information please contact:

Jodi Simons, Marketing Director
More from Optics & Photonics