Bulk Bag Filler moves free- and non-free-flowing materials.
Press Release Summary: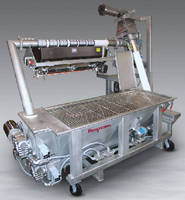 As fully mobile unit, Recirculating Spreader-Feeder evenly distributes powder and bulk coatings onto food products as they pass between its longitudinal discharge hopper and lower collection hopper. Horizontal conveyor, which has multiple discharge ports to apportion material across length of discharge hopper, automatically starts and stops to maintain preset fill level in hopper. Also, rotating agitator along bottom of hopper promotes uniform discharge through adjustable screen.
---
Original Press Release:

Recirculating Basic Bulk Bag Filler Unveiled by Flexiconspreader-Feeder



BETHLEHEM, PA-A new Recirculating Spreader-Feeder from Flexicon evenly distributes powder and bulk coatings onto food products as they pass between the unit's longitudinal discharge hopper and its lower collection hopper.

The fully mobile unit is positioned so that a wire conveyor belt with items to be coated, passes immediately above the unit's lower collection hopper, as a uniform curtain of the coating material descends from the upper discharge hopper.

A centerless auger along the bottom of the longitudinal collection hopper feeds material into the intake adapter of a side-mounted flexible screw conveyor that moves the material at a 75 degree incline into a hhorizontally-oriented conveyor positioned above a longitudinal discharge hopper.

The horizontal conveyor has multiple discharge ports to apportion material across the length of the discharge hopper, and automatically starts and stops to maintain a preset fill level in the hopper. A small-diameter rotating agitator along the bottom of the hopper promotes uniform discharge through an adjustable screen that spans a gap along the hopper bottom.

The conveyors employed are reportedly able to move both free- and non-free-flowing materials, including products that pack, cake, smear or degrade, with no separation of blended products such as seed mixes and spice blends, regardless of disparities in bulk density or particle size.

Suitable for food and other sanitary applications, the system features all-stainless construction including motors and vibrators, and quick-disconnect fittings for thorough, rapid wash down.

Other sanitary food handling equipment produced by the company includes The new Basic Bulk Bag Filler introduced by Flexicon performs low capacity filling operations at minimal cost, and can be upgraded with performance enhancements including a material delivery system integrated with the user's process equipment or bulk storage vessels, says David Boger, VP Sales and Marketing.

The new "Model "BFB" filler is a lighter-duty version of the company's heavy-gauge Twin-Centerpost(TM) filler, a patented design with two on-center posts said to offer the structural integrity of four-post fillers but at significantly lower material and fabrication costs and with less weight. It also affords easier access to the bag spout and loops according to the company.

The filler is equipped as standard with fill head height adjustment via fork truck to accommodate all popular bag sizes, an inflatable cuff to seal the bag inlet spout, and a feed chute vent port for dust-free air displacement during filling.

Performance can be enhanced by adding an inflator to expand the bag prior to filling, and a programmable scale system with flow control valve for automated filling by weight. The filler is also available with the company's own flexible screw or pneumatic conveyor delivery system integrated with the user's upstream process equipment or other material source.

The company also manufactures Swing-Down fillers that lower and pivot the fill head to vertical for connecting bags at floor level, rear-post fillers,stand-alone flexible screw conveyors, pneumatic conveying systems, bulk bag unloaders, bulk bag conditioners, bulk bag fillers, bag dump stations, drum dumpers, weigh batching and blending systems, and engineered plant-wide bulk handling systems with automated controls.

Contact Flexicon Corporation, 1-888-353-9426, sales@flexicon.com, www.flexicon.comsales@flexicon.com, www.flexicon.com

More from Controls & Controllers