Bulk Bag Dump Hopper virtually eliminates dust.
Press Release Summary: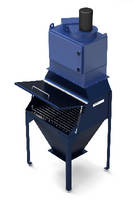 Ruggedly built for continuous operation, Bulk Bag Dump Hopper provides virtually dust-free way of dumping and filling process systems with material received in paper bags. Design incorporates baffle and bin vent, which can be attached to central dust collector, or optional bin vent filter over dump area. Hinged door keeps foreign materials from falling into process material when not in use, while expanded metal grid prevents bag pieces from getting into system.
---
Original Press Release:

Redesigned Metalfab Bag Dump Hopper Features a Small Footprint and Resized, More Efficient Bin Vent Filter



Metalfab, Inc., an industry-leading manufacturer of integrated dry solids processing equipment and systems, has announced availability of their redesigned bulk bag dump hopper.

The new model features a smaller plant footprint with resized, more efficient bin vent filter, and provides a quick, easy, and virtually dust-free way of dumping and filling a process system with material received in paper bags. The design incorporates a baffle and bin vent (which can be attached to a central dust collector), or optional, highly efficient bin vent filter over the dump area to maintain a dust-free worker environment.

Ruggedly built for continuous, long lasting operation, the unit has a hinged door to keep foreign materials from falling into process material when not in use and expanded metal grid to prevent bag pieces from getting into the system. The dump hopper's specially designed exit cone is also easily transitioned to accommodate other Metalfab downstream equipment such as MetaTech(TM) Volumetric Screw Feeders or "Better-Weigh"® Gravimetric "Loss-in Weight" or "Gain-in-Weight" Feeders for either batch or continuous feeding, Convey-All(TM) Flexible Screw or Vibratory Tube Conveyors, a rotary valve for pneumatic conveying systems and other related equipment.

For more information and a FREE test using your materials, call Toll Free 1-800-764-2999, Fax: 973-764-0272, e-mail: sales@metalfabinc.com, or visit our website @ www.metalfabinc.com

More from Software