Bulk Bag Discharger obviates forklifts and conveyors.
Press Release Summary: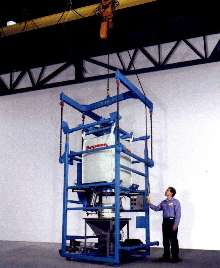 Bulk Bag Discharger can be hoisted from single lift point by plant cranes having 5,000 lb capacity. Bags are replaced by bulk bag lifting frame with self-centering receiver that mates to lifting-disc/eye-bolt for hoisting of bags into and out of frame by one operator. Bag-to-hopper interface consists of manual Spout-Lock(TM) clamp ring positioned atop pneumatically actuated, 18 in. diameter Tele-Tube(TM) telescoping tube, allowing dust-tight connections.
---
Original Press Release:

Hoistable Bulk Bag Discharger Obviates Forklifts, Conveyors


BETHLEHEM, PA-A new Bulk Bag Discharger from Flexicon allows relocating of the frame and changing of bags by one operator using only an overhead hoist, according to president David Gill.

A discharger lifting frame allows the entire unit, with or without bulk bag in place, to be hoisted from a single lift point by plant cranes having 5000 lb (2270 kg) capacity. Once the
discharger is lowered, bulk bags are replaced by means of a bulk bag lifting frame with self-centering receiver that mates to a lifting-disc/eye-bolt for rapid, single-point hoisting of bulk bags into and out of the frame by one operator, hands free. Z-Clip(TM) bag strap holders allow rapid yet secure connection of bags to the frame.

"The ability of one operator to replace bags, and position the entire frame directly above desired discharge points eliminates the need for forklifts normally employed to load and unload bulk
bags, and for conveyors to transport material from stationary dischargers to central or remote discharge points," says Gill.

The frame can be hoisted onto platform scales for loss-of-weight batching, or supplied as a self-contained loss-of-weight batching system with integral load cells and programmable controls.

The bag-to-hopper interface consists of a manual Spout-Lock(TM) clamp ring positioned atop a pneumatically actuated, 18 in. (450mm) diameter Tele-Tube(TM) telescoping tube, allowing dust-tight
connections and unrestricted flow between the bag spout and hopper, as well as automatic tensioning of the bag as it empties to promote flow and evacuation. The telescoping tube raises the
clamp ring assembly that seals the clean side of the bag spout to the clean side of the telescoping tube, and then lowers until the bag spout is pulled taut. Once the spout is untied, the telescoping assembly exerts continual downward tension on the spout, elongating the bag as it empties.

The high-integrity, dust-tight seal between bag spout and clamp ring allows full-open discharge from bag spouts of all popular diameters, eliminating the need for iris valves commonly employed to lessen dust escape inherent with bag spouts hanging loosely in hopper intake chutes.

A 24 in. (610mm) diameter Power-Cincher(TM) pneumatically actuated flow control valve allows full-open discharge from bags having wide diameter spouts, and retying of partially empty bags. Unlike devices using opposing bars to pinch the spout from two sides, the Flexicon design employs a series of curved, articulated stainless steel rods to cinch the spout concentrically on a horizontal axis for easy tie offs, and vertically in a tight zigzag pattern to prevent leakage of fine
powders.

The discharger is also equipped with Flow-Flexer(TM) bag activators that raise and lower opposite bottom edges of the bag at timed intervals, loosening compacted materials and promoting material flow into the bag discharge spout. As the bag lightens, the stroke of the bag activators increases, raising the bag into a steep "V' shape, eliminating dead spots for total evacuation of
material with no manual intervention.

The flow-promoting surge hopper configuration increases the flow of both free- and non-free-flowing bulk materials while minimizing the amount of residual material. It is equipped with
pneumatic and mechanical flow promotion devices, and a batch-feeding conveyor fitted with pneumatic knife-gate valve at its discharge for accurate flow shut off, and is available with outlet adapters and accessories such as charging adapters and rotary air lock feeders for discharging into any mechanical or pneumatic conveyor, or directly into weigh batch hoppers, blenders, screeners or other process equipment.

Also available is a Bag-Vac(TM) dust collector integral to the dust-tight system that creates negative pressure to collapse empty bags prior to retying and disconnection, eliminating dust emitted during manual flattening of empty bags.

Telescoping bag height posts adjust to accommodate bags from 36 to 84 in. (915-2130mm) in height. Frame construction is of carbon steel with durable industrial finish, or stainless steel
finished to industrial food, dairy or pharmaceutical standards.

Other equipment manufactured by the company includes flexible screw conveyors, bulk bag fillers, bag dump stations, lift-and-seal drum dumpers, weigh batching and blending systems, and
engineered plant-wide bulk handling systems with automated controls.

Flexicon Corporation, 2400 Emrick Blvd., Bethlehem, PA 18020-8006, Tel: 888-353-9426, Fax: 610-814-0600, E-mail: sales@flexicon.com, Web: www.flexicon.com

More from Electronic Components & Devices