Buck Benefits from Hunter Mold Handling Lines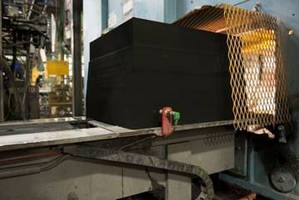 Custom configured solution from Hunter allows major Pennsylvania foundry to integrate mold handling line with other brands of automatic molding machines

Schaumburg, Illinois (USA) - The Buck Company is an ISO 9001: 2008 Certified foundry in Quarryville, Pennsylvania, near Lancaster and nestled in the Susquehanna Valley near the Maryland border. Here, ferrous and non-ferrous castings of ductile, gray and malleable iron, as well as aluminum and brass are poured in medium and long runs to produce a wide variety of end products for the agricultural, metalworking, materials handling, marine, military and other market segments.

A challenge was presented to Buck's longtime molding machine supplier, Hunter Automated. Another brand of molding machine had been acquired at Buck for a particular use in the non-ferrous foundry. Hunter was asked to provide a mold handling line for the particular conditions and footprint available at Buck and to devise a "handshake" mechanism to interface with this new machine.

It was determined that the best solution for the floor space and pouring equipment logistics was a Hunter HLH linear mold handling line. However, the pouring height of the Hunter line did not match the mold discharge height of the other machine brand, so an elevation change mechanism was needed to accommodate the difference between the mold's exit height from the machine and its placement onto the pouring line section of the Hunter line.

The solution was found in a walking beam (boardless) conveyor line devised and patented by Hunter, combined with an articulating arm and elevator mechanism that could raise the mold onto the pouring line for loading of the weight and jacket, all without risking mold shift.

As the mold exits the machine, in this case at Buck, a series of walking beams gently sequence the molds forward to the elevator station. The "traffic co" on this conveyor is a plurality of proximity sensors, used to monitor each location along the conveyor section and coordinate with the pouring operation, so mold collision and back-up are avoided. As pattern changes are made, work breaks occur or melts are prepped, these sensors remain in operation to protect the integrity of the process.

Once the mold reaches the end of this standard boardless walking beam conveyor section, an articulating arm and elevator mechanism gently raise the mold to the standard height of the Hunter handling system. Achieving this result saved Buck considerable manpower in materials handling, plus floorspace and capital investment, while allowing this Hunter customer to maintain high productivity in this section of its non-ferrous foundry operation.

As Dean Martin, sales manager for Hunter, explains, "We had a meeting of the minds with the automatic molding machine builder and we worked out a feasible plan to solve the handshaking issues presented by this production scenario. There were really no serious setbacks or conflicts, as we had the common goal of satisfying Buck's requirements with the optimum production results plus an on-target budget." He further described how the machine builder and Hunter's seamless working relationship helped develop this transitional walking beam (boardless) conveyor system.

Buck used the expertise of its projects manager Art Tout and non-ferrous foundry superintendent Steve Ward to work with the molding machine builder and Hunter to achieve the best solution. As Steve noted, "The Hunter linear line was more practical than the rotary turntable design, which we also have in another section of the foundry. With a smaller footprint and relatively low maintenance, it was a good solution." He joked, in describing the way Hunter worked with the machine builder, "They played well in the sandbox together."

The typical mold being handled on this line weighs 400-500 lbs. (181-227 kg), having been produced on the molding machine with a 20" x 24" plate dimension.

Buck President Matt Sullivan observed, "We were very impressed by the way everyone responded. The machine builder and Hunter actually needed very little input from us. We'd presented Hunter with some very tight floorspace restrictions and they worked hard to overcome the challenges for us. We had good experiences with the HLH lines in other parts of the foundry in the past and we were confident it would do the job here, even being modified. We knew the HLH would work from morning to night with few, if any, problems. The option of going vertical with the mold cooling was vital, given the floorspace." He also noted the installation and the modification of the overall system was seamless.

Martin concluded by noting, "...the boardless conveyor system used here at Buck, while a special modification to our standard board conveyor design, was completely designed, engineered and built by Hunter personnel. We've used this solution and others at several companies since the Buck install, with very satisfactory results."

Hunter holds several patents on the unique features of its mold handling systems, which can be utilized with any boardless molding machine.

For further information on this announcement, interested parties may contact:

HUNTER AUTOMATED MACHINERY CORPORATION

2222 Hammond Drive

Schaumburg, Illinois 60196-1094

USA

Phone: +1 847 397 5136

Email: sales@hunterauto.com

Web: www.hunterauto.com

Attention: Bill Hunter or Dean Martin

Hunter Mold Handling Helps Conbraco Prosper, Too

Dave Sherman is the foundry manager at Conbraco in Pageland, South Carolina, another company currently using Hunter mold handling lines with two other brands of molding machinery. He noted similar experiences to those of Buck Company.

"We had considerable experience with Hunter, so we looked to them for assistance in our mold handling, especially where floorspace was extremely limited. They proposed a turntable design (Hunter Model HV-20) and that had many advantages for us, including fume collection from the leaded brass we pour here," Sherman explained.

Two Hunter mold handling lines are each fed by two other brands of molding machines at this facility of Conbraco, where Apollo brand valves and other flow control products are produced for the plumbing, irrigation, waterworks and fire protection markets.

Upon approval of the design and build stage, Conbraco commissioned Hunter to supervise the installation and ramp-up of the two mold handling lines. As Sherman noted, "We were very pleased with Hunter's performance. They stand behind their work and their equipment."

Two auto-pours are utilized on each line, for the various brass alloys and other metals processed at Conbraco.


Related