Bryan Steam Exhibiting at AHR 2016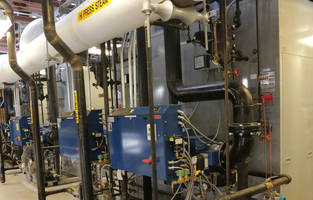 Bryan Steam LLC is exhibiting at AHR Expo 2016 in Booth No. 3908 from January 25-27, 2016 at the Orange County Convention Center in Orlando, FL. Bryan Steam will be highlighting its full line of boilers in capacities from 6 to 600 hp for industrial, commercial and institutional applications.



Bryan Steam, originators of the "Flexible Water Tube" design, will be celebrating its 100th year in business in 2016. Founded in 1916 as the Bryan Harvester Company by George Bryan, the company began by producing cars and steam powered tractors. In 1922, the company stopped such production after the rise of the gasoline engine. Bryan Harvester then refined and marketed the bent water tube boiler that had powered the vehicles and became Bryan Steam LLC.



Today Bryan Steam offers a broad range of boilers to meet your needs including gas, oil and gas/oil fired boilers, as well as electric, condensing, Low NOx and knockdown boilers. The "Flexible Water Tube" design provides fast, natural internal circulation for maximum heat transfer and operating efficiency. Bryan Steam also manufactures indirect water heaters, pool heaters, feed systems and related equipment and accessories.



For more information contact Bryan Steam LLC, 783 North Chili Avenue, Peru, IN 46970. Phone: 765-473-6651, Fax: 765-473-3074. E-mail: inquiry@bryansteam.com, Website: www.bryanboilers.com.

More from Packaging Products & Equipment