Brushless Motor Driver IC interfaces with DSP or MCU.
Press Release Summary: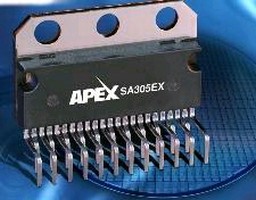 Targeted at brushless motors in fractional 1/3 hp range, Model SA305 is capable of 3-phase operation and features PWM for thermal efficiency. IC utilizes 3 independent half bridges to deliver up to 5 A output, or 10 A Peak, using industrial voltage supplies of 60 V. Housed in 23-pin staggered lead package, unit switches at frequencies up to 100 KHz. All 6 FETs in device can be accessed independently to control PWM and commutation.
---
Original Press Release:
Three-Phase Brushless Motor Driver IC Interfaces With DSP Or MCU
FOR INDUSTRIAL MOTOR OPERATION UP TO 5A ON 60V SINGLE SUPPLY TUCSON, AZ (USA) - The selection of DC brushless motors is gaining rapid favor across a broad spectrum of industrial applications. Much of this new found acceptance for brushless motors is occurring where DC brush motors have long resided. The low maintenance, clean operating features of brushless motors have been duly noted by designers in recent years, but the actual cost of the motors has often proven to be prohibitive. But as is the case with all new technology, ASPs are now on the decline and new found favor is on the rise. The increase in new brushless motor applications is also fueling demand for lower cost ICs capable of driving these 3-phase motors. As an industry leader in power analog, Apex Microtechnology's operational amplifiers have found many a design-win driving DC brush motors in the 1A to 50A power range. Now Apex is applying the company's power analog expertise to developing Precision ICs capable of 3-phase operation. The company's first product targeted at the brushless motor market is the new SA305. This IC features PWM operation for thermal efficiency and it's the only brushless motor driver that offers the designer their choice of digital interface -- DSP or MCU. In terms of performance, the SA305 is targeted at brushless motors in the fractional one-third horsepower range. The SA305 utilizes three independent half bridges to deliver up to 5A output current, or 10A PEAK, using industrial voltage supplies of 60V. This independent half-bridge operation provides separate high and low MOSFET control and allows the SA305 to be used wherever three high current outputs are required. All six FETs in the device can be accessed independently to control the PWM and commutation. The SA305 also is well protected. It's the only 5A brushless motor driver with 3-phase current monitoring. An important design note for the SA305 is the potential for overall savings on system size, weight and design based on the devices PWM efficiency. The use of switching technology minimizes power dissipation issues. As a result, the need for large external heatsinks is reduced. It also means the motor and its operating system will run cooler, increasing long-term reliability. The SA305 also uses smaller filter components because it switches at frequencies of up to 100 KHz. The SA305 is offered in a 23-pin staggered lead IC package. The heat tab on the package is tied to -VS. Typical Applications for the SA305EX: o DC brushless motor drives up to 1/3-HP o Factory automation o Robotic controls o Positioning controls Typical Markets for the SA305EX: o Industrial Controls o Aerospace o Military Key Specifications for the SA305EX Voltage Supply Output Current Switching Frequency Power Delivery Production Volume Pricing Model V A KHz W 10K pcs USD SA305EX 12V to 60V Single Supply 5A Continuous 10A PEAK 100KHz Up to 300W $13.10 NOTE: sample units for evaluation available now, full-qualified release scheduled for 2nd quarter 2006. Additional product information on the Apex SA305 is available at apexmicrotech.com. To request product literature by phone, please call the Apex Product Literature Helpline at 800-546-APEX, or contact us via e-mail at prodlit@apexmicrotech.com. Apex Microtechnology Corporation is an industry leader in high power analog ICs, modular and hybrid components designed to meet the performance and cost design targets of our customers' precision control applications. Apex is headquartered in Tucson, Arizona, USA.
More from Architectural & Civil Engineering Products