Brushless DC Motors provide range of power capabilities.
Press Release Summary: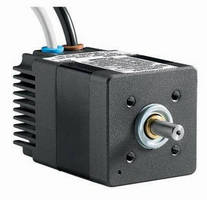 Along with integrated electronics, DCmind TNi21 and SMi21 Series feature optimized control loop, internal thermal protection, and intuitive software. DCmind SMi21 Series, which incorporates 4096 step encoder, offers nominal usable power ratings of 66, 90, and 150 W at 24 Vdc and support 9–56 Vdc. DCmind TNi21 Series offers nominal usable power rating of 60, 80, and 140 W at 24 Vdc and support 10–36 Vdc. Both series can be used stand-alone, with other motors, or controlled by PLC.
---
Original Press Release:

Crouzet Introduces DCmind Brushless Motor Series



Featuring Integrated Electronics and Wide Range of Power Capabilities



SAN DIEGO, Calif. – Crouzet, a brand of Custom Sensors & Technologies (CST), has introduced the DCmind Brushless direct current motor series, augmenting the recent market debut of the DCmind Brush Series.  The latest in the DCmind offering includes the TNi21 and SMi21 brushless motors featuring integrated electronics, power capabilities from 60 to 150 Watts, and high accuracy.



A key benefit to the new series' design is the integrated electronics that save space and provide a smart, compact motor solution.  Other important characteristics include an optimized control loop which allows simple and accurate motor management, carefully designed internal thermal protection for improved safety, and intuitive, easy-to-use software.  Excellent EMC characteristics assure operational safety and reliability.  Available options include mechanical brake and a variety of planetary and worm gearboxes.  Either model can be used as a stand-alone motor or in combination with other motors, or controlled by a PLC.



The DCmind SMi21 Series is designed for motion control applications that require precise accuracy.  These motors feature a range of 66, 90 and 150 watts nominal usable power at 24VDC and support 9-56 VDC.  The SMi21 incorporates a quality 4096 step encoder that controls position, torque, speed, direction, braking and other functions and includes 6 inputs and 4 outputs.  Suitable uses include a variety of access control applications such as automatic doors and screen doors used in metro systems, trams, trains, and bank airlocks; as well as turnstiles, barriers and motorized traffic controls.



The DCmind TNi21 Series Motors are rated at 60, 80 and 140 watts nominal usable power at 24VDC and support 10-36 VDC. This series was designed for simple applications dedicated to speed and torque control.  Overall, the new brushless motors are excellent for applications found in medical, packaging, robotics, printing/mail sorting and many others.



"The new DCmind Brushless motors add a premium product to our line," says Jerry Brierton, BEI Kimco & Crouzet Motors National Sales Manager.  "With the model SMi21's power capabilities to 150 Watts, Crouzet can effectively expand its application reach to the automation positioning market.  Additionally, Crouzet's ability to provide adaptations and customization make the product even more attractive to customers looking for a motor that can be modified to meet their exact requirements."



DCmind Brushless motors are manufactured under ISO 9001, ISO 14001, approved in accordance with CE, and are RoHS compliant.  Delivery is from stock to 12 weeks.



For more information, contact Crouzet, 2320 Paseo de Las Americas, Suite 201, San Diego, California 92154 USA, Toll-free: (800) 677-5311; E-mail: CRZ-NA.Motors@crouzet.com, Web: www.crouzet.com



About Crouzet:

For over 50 years, Crouzet Automatismes, the automation control component manufacturer, has offered complete motorization solutions: motors, DC geared motors, brushless motors and geared motors, motorization solutions, electronic cards, synchronous motors, stepper motors, linear motors, voice coil actuators, etc.



These products are particularly suitable for use in medical equipment, valves, pumps, access control (barrier, turnstile, lift doors, etc), water treatment, billboards, etc. www.crouzet.com



About Custom Sensors & Technologies:

Custom Sensors & Technologies (CST) is a specialist in sensing, control and motion products. Through its brands, BEI Kimco, BEI Sensors, BEI PSSC, Crouzet, Crydom, Kavlico, Newall and Systron Donner Inertial, CST offers customizable, reliable and efficient components for mission-critical systems in Aerospace & Defense, Transportation, Energy & Infrastructures, Commercial & Industrial OEMs, Medical, Food and Beverage and Building Equipment markets.



Focused on premium value offers and committed to excellence, CST, with 4,700 employees worldwide and sales of $660M US in 2011, is the dependable and adaptable partner for the most demanding customers. www.cstsensors.com

More from Fluid & Gas Flow Equipment