Brushless DC Motors enable customized automation solutions.
Press Release Summary: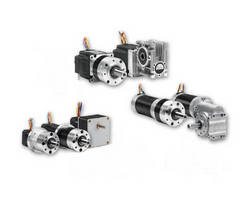 Offered with complete tool kit of selectable gear boxes, controllers, brakes, and smart drives, BLDC motors feature wide range of options for power, speed, torque, and size and can be quickly assembled in different custom configurations. They feature continuous power up to 400 W, speeds from 1,500-6,100 rpm, and max torque constants up to 198 oz-in./A. Available with factory-mounted optical or magnetic encoder, 6 models include 2 round and 4 square designs with lengths from 41-114 mm.
---
Original Press Release:

Crouzet's New Line of Geared Brushless DC Motors Provide Fast Automated Solutions with Compatible Controllers, Brakes and Smart Drives



VISTA, Calif.,- Crouzet North America, a company of Custom Sensors & Technologies, has introduced a new line of high performance, geared BLDC motors available with a complete tool kit of selectable gear boxes, controllers, brakes and smart drives. The innovative concept allows different configurations to be quickly assembled for fast prototyping and provides a complete automated solution tailored to fit individual customer needs.

The new BLDC motors feature a wide selection range for power, speed, torque and size. Motors include continuous power up to 400 watts, speeds between 1,500 and 6,100 RPMs, and motor constants up to 15 ounce per square root watt (103 mNm per square root Watt). Maximum torque constants feature up to 198 ounce- inches/amp (1400 mNm/amp). The six new models include two round and four square designs with lengths ranging from 41mm to 114 mm. Motors can be ordered with a factory-mounted optical or magnetic encoder and can also be fitted with electro-mechanical fail safe power off brakes.

Compatible gearboxes feature Spur, Planetary and Worm styles with torques from 0.4 Nm to 120 Nm. The BDE30 and BDE40 external drives are offered in 6A or 14A max respectively. Internal drives are offered on BLDC motors that feature power ranges from 40 to 100 Watts. A wide range of accessories are also available.

The new motor control solution is suitable for a wide range of applications in the medical and industrial markets. Specific uses include automation for endoscopy, x-ray and dental equipment, robotic pool equipment, peristaltic pumps, access control, printing and bill boards.

"Crouzet's new motor line offers a significantly expanded performance range and selection for greater application flexibility," explains Jim McNamara, Crouzet Application Engineer. "Our new 'tool kit' approach of interchangeable motors, gear boxes, controllers, brakes and smart drives, allows us to provide fast automated solutions at an excellent value."

About Crouzet North America:

Crouzet North America is an operation of Custom Sensors & Technologies (CST). Crouzet (pronounced cruise-A) started operations in the US in 1978. A global company of about $180 M, Crouzet is headquartered in France, with about 2000 workers in more than 14 countries. The Crouzet motor activity is composed of sub-fractional HP AC, DC, BLDC, and Stepper motors with global sales of $55 M, with a worldwide sales team and adaptation centers to support special OEM applications. www.crouzet.com

About CST Motors:

CST Motors is comprised of BEI Kimco Magnetics and Crouzet; both are operations of Custom Sensors & Technologies (CST). CST Motors has global sales of $68 M. CST Motors has the ability to support our customers worldwide with International sales teams and adaptation centers.

Crouzet (pronounced cruise-A) started operations in the US in 1978. The Crouzet motor activity is composed of sub-fractional HP AC, DC, BLDC, and Stepper motors with global sales of $55 M, with a worldwide sales team and adaptation centers to support special OEM applications. www.crouzet.com

BEI Kimco Magnetics is a leading manufacturer of high speed, fractional horsepower brushless bldc motors, voice coil actuators, smart voice coil actuators and bldc motor controllers for the Transportation, Industrial, and Aerospace & Defense markets. www.beikimco.com

About Custom Sensors & Technologies:

Headquartered in Moorpark, CA - Custom Sensors & Technologies (CST) is comprised of industry-leading brands including Crouzet, Kavlico, Crydom, and former divisions of BEI Technologies - Newall and Systron Donner. CST provides sensors, controls, and actuation products for the Transportation, Industrial and Aerospace & Defense markets. www.cstsensors.com

For more information, contact

Crouzet North America,

2470 Coral Street, Bldg. D,

Vista, Calif., 92081-8430;

Tel: (760) 597-6322;

Fax (760) 597-6320;

E-mail: mcnamaj@us.crouzet.com, or

visit www.crouzet.com

Client Contact:

Jim McNamara

Crouzet North America

Custom Sensors & Technologies

(760) 597-6322

mcnamaj@us.crouzet.com

www.crouzet-usa.com

More from Mounting & Attaching Products