Brushless DC Motors boost battery life.
Press Release Summary: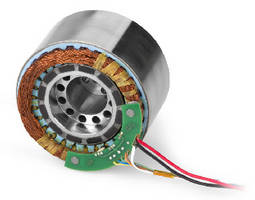 Available in multiple designs that provide operational efficiencies in excess of 90%, High Torque Density Brushless DC Motors extend battery life of electric vehicles, motorized robotics, and medical equipment. Units range up to 20 in. OD with torques in excess of 50 Nm and operational speeds beyond 70 K rpm. Featuring 2-piece frameless design composed of rotor and stator, motors can be integrated into existing assemblies.
---
Original Press Release:

New DC Motors Boost Battery Life with Operational Efficiencies in Excess of 90%



VISTA, Calif. — Electrically powered unmanned aerial vehicles, remotely operated vehicles and autonomous vehicles offer a number of advantages over conventional fossil fuel, including reduced carbon footprint, noise, and emissions.  As a result, the number of electric vehicles (EVs) is growing in industries ranging from military and commercial to industrial.  In addition to EVs, a variety of other products such as motorized robotics and medical equipment, use batteries as a primary or auxiliary power source.



Maximizing battery life can be a decisive factor to many mission-critical systems where longevity of the equipment can affect the outcome.  For example, in battery operated medical devices or remotely piloted military vehicles, the ability to last 13 minutes instead of 10, can make a significant difference.   Increasing the life of any battery-operated system has become a key initiative for equipment manufacturers.



To meet this market initiative, BEI Kimco Magnetics has developed new frameless Brushless DC Motors in multiple designs that provide extremely high operational efficiencies in excess of 90% that enable extended battery life.  For battery dependent applications, motor efficiency is paramount in getting the longest operating time before it needs to be charged.



The newly designed High Torque Density Brushless DC Motors are able to achieve this superior 90% plus efficiency with improved weight and envelope profiles.   Leveraging BEI Kimco's 40 years of expertise in advanced motion component design, these high efficiency motors were realized by utilizing proprietary low magnetic circuit design techniques.  Other important features include a frameless motor design composed of two pieces ‒ a rotor and stator.  This design makes it easy to integrate into a customer's existing assembly, minimizing the need for extra components and reducing overall weight.



"OEMs developing equipment that rely on batteries will find these motors extremely valuable in extending their product's range or service life without frequent battery charges or replacement," says Walter Smith, Applications Engineer/Project Manager for BEI Kimco.  "Whether it is a remotely powered IED robot that needs long distance range, or a motorized medical instrument that needs untethered flexibility, customers want to get the most out of their batteries to maximize product efficiency."



BEI Kimco Magnetics designs and manufactures custom fractional horsepower permanent magnet brushless DC Motors.  The brand is on the leading edge of manufacturing process technologies and possesses the material selection expertise required to achieve the highest torque densities available in the industry.  Motors range up to 20" in O.D. with torques in excess of 50Nm and operational speeds beyond 70K rpm. 



For further information contact BEI Kimco Magnetics, Tel: (760) 597-7042; Toll-free: (800) 572-7560; Fax: (760) 597-6320; email: sales@beikimco.com;  www.beikimco.com.



About BEI Kimco Magnetics

BEI Kimco Magnetics specializes in the design and manufacture of high performance rotary and linear motion components, including Brushless DC Motors and Voice Coil Actuators.  These products are designed for applications where performance, precision, and reliability are critical.  Using proprietary magnetic design methodologies, BEI Kimco Magnetics has the ability to produce custom, cost efficient products within multiple manufacturing locations.  BEI Kimco Magnetics is a leader in medical, industrial, aerospace & defense markets.



BEI Kimco Magnetics is a brand of Custom Sensors & Technologies (CST).



About CST

Custom Sensors & Technologies (CST) is a specialist in designing and manufacturing sensing, control and motion products.

Through its brands, BEI Kimco, BEI Sensors, BEI PSSC, Crouzet, Crydom, Kavlico, Newall and Systron Donner Inertial, CST offers customizable, reliable and efficient components for mission-critical systems in Aerospace & Defense, Transportation, Energy & Infrastructure, Medical, Food and Beverage and Building Equipment markets.



Focused on premium value offers and committed to excellence, CST, with 4.500 employees worldwide and sales of $600M US in 2013, is the dependable and adaptable partner for the most demanding customers.



www.cstsensors.com

More from Agricultural & Farming Products