Applicator / Finishing / Cleaning Brushes
Brush and Scraper expand to clean tubes.
Press Release Summary: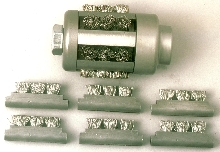 As Expanding Brush and Expanding Scraper spin, centrifugal force raises floating brushes or floating scraper blades so they conform to tube's ID, even if ID changes along length of tube. As brushes and scrapers wear, they raise more to conform to tube's ID. Applications include cleaning boilers, heat exchangers, condensers, chillers, steam generators, and pressure vessels. Brush cleans tubes up to 2 1/2 in. OD, while scraper handles tubes up to 6 1/2 in. OD.
---
Original Press Release:
Expanding Brush and Expanding Scraper Offer Both Superior Tube Cleaning and Better Value
Ideal for Cleaning Boilers, Heat Exchangers, Condensers, Chillers, Steam Generators and Other Small and Large Diameter Pressure Vessels Long Island City, New York USA. Fixed diameter brushes are inexpensive, but they begin to degrade while cleaning the first tube, and they become increasingly less effective with each tube that is cleaned. The unique Wilson Expanding Brush and Wilson Expanding Scraper, however, clean the last tube as effectively as they cleaned the first tube, making them more effective tools for tube cleaning and a better overall value! As the Expanding Brush and Expanding Scraper spins, centrifugal force raises the floating brushes or floating scraper blades so they conform to the tube's inner diameter. As the brushes and scrapers wear, they simply raise further so they still conform to the tube's ID for optimal cleaning performance. The Wilson Expanding Brush and Wilson Expanding Scraper offer numerous advantages over fixed-diameter tube cleaning heads: - They automatically conform to the tube ID, even if it changes substantially along the entire length of the tube - As the brushes and scrapers wear, centrifugal force throws them out further so they continue to conform to the tube's ID - Brush and scraper refill sets keep both cleaning heads affordable - Either cleaning head is available with a universal joint for cleaning curved tubes - The Wilson Expanding Brush is ideal for removing soot from fire tube boilers and scale from heat exchangers, water tube boilers and steam generators. The Expanding Brush can clean tubes up to 2-1/2 -Inch OD. - The Wilson Expanding Scraper is best suited to cleaning tubes with muddy or gummy deposits such as those found in surface condensers and heat exchangers, and in sugar, pulp and paper, and trash burning plants. The Expanding Scraper has a larger cleaning range than the Expanding Brush, covering tubes up to 6-1/2-inch OD. - While the initial investment in an Expanding Brush or Expanding Scraper is more than twice the cost of a fixed diameter tube cleaning brush, the Wilson Expanding Brush and Wilson Expanding Scraper last at least tens time longer, making it an excellent value! - The Wilson Expanding Brush can clean tubes as small as .482 inch (12.2mm) ID and as large as 2.084 inch (52.9mm) inner diameter. - The Wilson Expanding Scraper has cleaning range that covers 2.000 inch (50.8mm) to 6.499 inch (165.1mm) ID tubes. The Expanding Brush and Expanding Scraper can be powered by electric, air driven or pneumatic drive units, all of which are also available from Thomas C. Wilson, Inc. Thomas C. Wilson, Inc. has manufactured tools for the fabrication, repair, cleaning and maintenance of pressure vessels for 70 years. Headquartered in Long Island City, New York, Wilson distributes, services and supports its products through a global network of Authorized Distributors. For information about the Wilson Expanding Brush, Wilson Expanding Scraper, tube plugs, tube expanders, tube pullers, tube cutters, tube facing tools and pneumatic tools, as well as tube cleaning systems and accessories, or the name and telephone number of a local Authorized Wilson Distributor, contact Thomas C. Wilson, Inc. at: Toll Free: 1-800-230-2636; Telephone: (718) 729-3360; Fax: (718) 361-2872; Internet: tcwilson.com; E-mail: smarttools@tcwilson.com
More from Electronic Components & Devices