Bronze Bearings have high-strength, self-lubricating design.
Press Release Summary: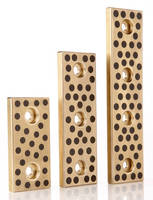 Able to withstand extreme environments, maintenance-free, M Series Enduralube bearings utilize Manganese bronze as base metal. This construction provides strength needed for use in applications that require higher than normal load bearing capabilities with slower rate of motion. Solid lubricant plugs provided necessary lubrication to keep bearings moving.
---
Original Press Release:

Introducing Enduralube "M Series" Bearings



Roseville, MI — National Bronze Mfg. Co., a leading manufacturer of bronze bushings, bearings, and machined components, is pleased to announce the addition of "M Series" Enduralube Bearings to their vast product lines of copper alloy based products.



Enduralube self-lubricating are known as some of the most reliable bronze bearings in the market.  This reliability comes from the combination of the cast bronze base metal and the proprietary solid lubricant plugs.  This combination gives our customers a maintenance free bearing able to withstand even the most extreme environments.



One of the many advantages of using a bronze alloys as a base metal is the ability to match specific bronze alloys with applications that will benefit from the advantages of the bronze alloy.  The Enduralube "M Series" bearings utilize a Manganese bronze as the base metal.  These bearings can be used in applications that require higher than normal load bearing capabilities with a slower rate of motion.  The high strength manganese bronze provides the added strength need for these applications, and the solid lubricant plugs provided the necessary lubrication to keep the bearings moving.



National Bronze Mfg. offers both custom made bearings as well as a standard line of stocked Enduralube "M series" sleeve and flanged bearings.  You can find their standard line of Enduralube "M Series" bearings on our online store at http://www.bronzebushings.com



To request a quote for a custom Enduralube "M Series" Bearing, fill out their RFQ form: http://www.nationalbronze.com/request-a-quote.php



About National Bronze Mfg. Co.

National Bronze Mfg. is a leading manufacturer and supplier of bronze based products. Since 1911 National Bronze Mfg. has been one the largest manufacturers of bronze bushings, bearings, and other industrial components. National Bronze Mfg. is also a full metal service center supplying bronze, brass, and copper bar stock to manufacturers worldwide. With an expertise in copper alloy based product National Bronze Mfg. services customers in a wide variety of industries.



http://www.nationalbronze.com/



http://www.nationalbronze.com/plug-graphite-bearings.php

More from Electronic Components & Devices