Broadcast Pix Showcases New Upgrades at CCW 2012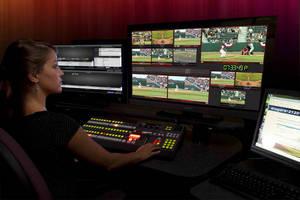 Billerica, Massachusetts - Broadcast Pix(TM) will showcase its Mica(TM) 2000 Video Control Center(TM) and new Version 3.2 software for Mica and Granite(TM) systems at Content & Communications World (CCW), which runs Nov. 14-15, 2012, at the Javits Convention Center in New York (Booth 861).

"CCW is an excellent opportunity for us to connect with our East Coast customers who weren't able to attend the bigger shows in Las Vegas this year," said Ken Swanton, CEO, Broadcast Pix. "For some, it will also offer their first hands-on demo of our Mica product line, which has been very well received in the industry. CCW is also a great chance to introduce our new V3.2 workflow software, which enhances five core components of our systems and makes it easier than ever to create great live video with confidence."

Launched in late 2011, Mica integrated production systems harness the native HD technology from the award-winning Granite product line in a compact, cost effective package. Mica's multi-definition production switcher can mix eight HD/SD-SDI inputs with seven channels of internal clips, animations, and graphics, with support for up to six keyers and DVEs, six HD/SD-SDI outputs, and two DVI outputs. Each of the four Mica models also includes Broadcast Pix Fluent(TM) workflow tools, including built-in 30-hour clip store, CG, macros, and customizable multi-viewer.

Available later this year, V3.2 workflow software adds many enhancements to robotic camera control. Now, thumbnails of each robotic camera's preset position will appear on the multi-viewer, rather than just the number of each preset, which helps with camera selection. New automatic camera follow enables the preset choices for a camera to appear as soon as the camera is selected by the switcher on preview. With enhancements to Fluent Macros, highly polished effects combining robotic cameras and other devices can now be created. Plus, manual control has been enhanced with a mode for very long throws, and control of cameras over IP, instead of just serial, greatly simplifies installation.

V3.2 also adds support for native Avid DNxHD clips as well as multi-definition 1080i, 720p, and SD ProRes and H.264 clips for the integrated clip server. The Granite 2000 control panel now offers 2 M/E functionality, enabling a more affordable 2 M/E system with a compact footprint. Plus, V3.2 enables each program to automatically load a custom multi-view layout and initial macro designed for that show, allows separate control panels to control one M/E on a 2 M/E system, and adds frame capture to the still store. Earlier enhancements that will also be featured at CCW include optimized touch-screen controls, integrated virtual set software, scoreboard integration, multi-lingual user interface, and multi-screen support for 1 M/E systems.

About Broadcast Pix The leader in live video production systems, Broadcast Pix was founded in 2002 and has customers in more than 110 countries. Its Video Control Centers(TM) combine an integrated switcher, clip server, CG, and device control software with patented control panels, unique touch-screens, and exceptional displays that enable operators to create with confidence. That confidence is further enhanced with rock-solid stability, patented technologies to maintain lip sync, and great technical support. Systems range from compact systems controlled by touch-screen or voice automation to sophisticated 2 M/E control panels. Customers include leading broadcast, corporate, education, religious, government, webcast, entertainment and mobile studios. Learn more at www.broadcastpix.com.

Broadcast Pix, Granite, Mica, Fluent, and Video Control Centers are trademarks of Broadcast Pix, Inc. Patented. Made in USA.


More from Electrical Equipment & Systems