Broadcast Pix™ Production Switchers come with NewBlueNTX high-end CG.
Press Release Summary: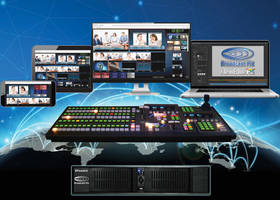 Available in FX, MX, and GX models with up to 22 SDI inputs and 12 outputs, Broadcast Pix™ Production Switchers enable houses of worship, schools, governments and broadcasters to control live production from control room. Featuring up to eight internal channels for clips and graphics, customizable BPview™ multi-view and Virtual Studios, units deliver full-motion video and access to all sources through browser-based interface by tablet, phones and laptops.
---
Original Press Release:
InfoComm 2017: New Broadcast Pix BPswitch Integrated Production Switchers Offer Full Control-Over-IP
With its new BPswitch™ family of integrated video production switchers, Broadcast Pix™ enables houses of worship, schools, governments, businesses, and broadcasters to control a live production from a traditional control room, another facility across the country, or even from home. The new switchers deliver full-motion video and complete access to all sources and workflow tools through a browser-based interface that can be accessed by tablet, phones, and laptops. Broadcast Pix will demonstrate the BPswitch product line at InfoComm 2017 (Booth 4475), which runs June 14-16 in Orlando, Fla.
Using the company's BPnet™ IP ecosystem, BPswitch can be controlled with the Broadcast Pix Commander™ user interface through Chrome, Firefox, Opera, and other browsers. Commander's simplified and customizable interface help non-technical personnel easily switch live productions, add titles, insert clips, and control robotic cameras. BPnet delivers the new control-over-IP capabilities with ultra-low latency, plus extended encryption and two-factor authentication for secure performance. For more traditional installations, BPswitch is compatible with a range of optional control panels.
The 4K upgradeable BPswitch FX, MX, and GX models provide up to 22 SDI inputs and 12 outputs, integrated streaming to Facebook Live and other CDNs, and optional robotic camera control. Like previous Broadcast Pix switchers, BPswitch includes up to eight internal channels for clips and graphics, file-based macros, ClearKey chromakey, Virtual Studios, and customizable BPview™ multi-view, which can also be used in a browser for easy control of local or remote BPswitch systems over IP.
BPswitch also includes the NewBlueNTX high-end CG. Powered by NewBlueFX, it produces resolution independent 3D text and graphics, as well as motion graphics animations. It includes hundreds of title styles and templates, so it is easy to create and update lower-thirds, bugs, animations, and complex effects.
Remote unmanned studios are a rapidly growing market because of staffing and location flexibility. Other switchers require leasing expensive network lines for each remote camera, which makes the process prohibitively expensive. In contrast, BPswitch enables the switcher to be located on site and controlled remotely – along with IP-based PTZ cameras – using a typical internet connection.
"People are very excited about BPswitch because its NewBlueNTX 3D CG is amazing, and its browser-based control lets you produce a complete live video production from your tablet," explained Steve Ellis, COO. "Whether you're snowed in at home or stuck at an airport across the country, you can truly take control anywhere. Broadcasters immediately recognized BPswitch as an affordable solution for remote unmanned studios, but we're also getting a lot of interest from churches, schools, and corporate video operations."
BPswitch models start at $10,995 and will ship in September. Broadcast Pix's current "BPswitch Quick Start" promotion allows buyers of new Granite™ and Mica™ switchers (with a panel) to pay the BPswitch price increase and receive a free Commander interface and customization toolkit, free quad monitor multi-view option on select models, and a no-charge upgrade to BPswitch. Current Broadcast Pix switchers can also upgrade to BPswitch.
About Broadcast Pix Founded in 2002, Broadcast Pix provides integrated live video production switchers with the best control. From compact mobile units to large-scale solutions, every Broadcast Pix features patented control and automation technology that make it easy to optimize and customize your workflows. With customers in more than 100 countries, Broadcast Pix is the leader in totally integrated production switchers for broadcast, streaming, live event, and visual radio applications. Its BPNet ioGates media management products are used by leading broadcasters and production houses. Learn more at www.broadcastpix.com.
More from Architectural & Civil Engineering Products