Broadband RF Switches offer optimized isolation, power handling.
Press Release Summary: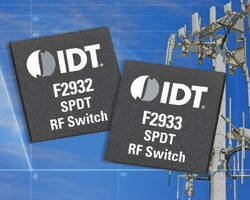 Supplied in 4 x 4 mm, 16-pin QFN packages, F2932 and F2933 silicon-based, low-distortion, 50 Ω, SPDT switches operate at 50–8,000 MHz. Both offer similar RF performance, pin out, and control, and F2932 has additional Enable/Disable feature that lets all RF paths be put into an off state and disable VCTL feature. At 4 GHz, F2932 and F2933 deliver 66 dB isolation; low distortion of 64 dBm IIP3 @ 15 dBm tones (1 MHz channel spacing); 0.93 dB insertion loss; and P1dB of >35 dBm.
---
Original Press Release:

IDT's Latest Broadband RF Switches Deliver Industry-Leading Isolation and Power Handling While Maintaining Low Insertion Loss



Drop-In Compatible with GaAs Switches, IDT's 50 to 8000 MHz Broad Bandwidth, 50 Ohm Absorptive SPDT Switches Offer an Unparalleled Combination of RF Specs



SAN JOSE, Calif. – Integrated Device Technology, Inc. (IDT) (NASDAQ: IDTI), today introduced two high-isolation, low-loss, high linearity broad band RF switches for a wide variety of applications. Operating at 50 to 8000 MHz, the IDT® F2932 and F2933 are silicon-based, low-distortion 50-ohm single-pole, double-throw (SPDT) switches. With industry-standard 4x4mm 16-pin QFN packages and drop-in compatible footprints and control, their rich combination of specs make the devices ideal for communications and public safety systems, radar and general purpose switching.



At 4 GHz the F2932 and F2933 deliver:

--  high isolation of 66dB

--  low distortion of 64dBm IIP3 @ 15dBm tones, 1MHz channel spacing

--  insertion loss of 0.93 dB

--  P1dB of >35dBm



The inherent benefits over most competitive products, particularly when compared to typical GaAs-based switches, are:

--  better RF performance

--  greater reliability

--  easier integration

--  lower total solution cost



"These two new devices offer one of the industry's highest isolation values, and when combined with their low distortion and low insertion loss they provide superior performance for many different high-isolation applications," said Chris Stephens, general manager of IDT's RF division. "These switches represent the latest way IDT is helping engineers meet the demanding requirements of today's RF designs."



F2932 and F2933 offer similar RF performance, pin out and control, with the F2932 having an additional Enable/Disable feature allowing all RF paths to be put into an off state and disabling the VCTL feature.



About IDT RF Products

IDT offers high-performance and full-featured radio frequency (RF) products that deliver exceptional performance in compact packages. All IDT RF signal path devices are silicon based, offering inherent advantages over GaAs-based products. The portfolio includes RF mixers, RF and IF variable gain amplifiers (VGA), digital step attenuators (DSA), demodulators, broadband modulators, RF switches, and wideband voltage variable attenuators. IDT's RF devices are ideal for use in such products as cellular 4G base stations, broadband repeaters, distributed antenna systems and microwave backhaul equipment.



About IDT

Integrated Device Technology, Inc. develops system-level solutions that optimize its customers' applications. IDT's market-leading products in RF, timing, wireless power transfer, serial switching, interfaces and sensing solutions are among the company's broad array of complete mixed-signal solutions for the communications, computing, consumer, automotive and industrial segments. Headquartered in San Jose, Calif., IDT has design, manufacturing, sales facilities and distribution partners throughout the world. IDT stock is traded on the NASDAQ Global Select Stock Market® under the symbol "IDTI." Additional information about IDT is accessible at www.IDT.com. Follow IDT on Facebook, LinkedIn, Twitter, YouTube and Google+.



© 2016, IDT. IDT and the IDT logo are trademarks or registered trademarks of Integrated Device Technology, Inc., or its wholly-owned subsidiaries around the world. All other brands, product names and marks are or may be trademarks or registered trademarks used to identify products or services of their respective owners.



IDT Press Contact:

Dean Solov

Public Relations Manager

Phone: (408) 284-2608

E-mail: dean.solov@idt.com



Web Site: http://www.idt.com

More from Software