British Antarctic Survey Selects Maxtena's Antenna for Science Spears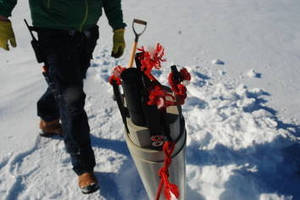 Maxtena has been selected as the antenna provider to British Antarctic Survey (BAS), one of the world's leading environmental research centers with responsibility for the UK's national scientific activities in Antarctica.



BAS scientists have developed an airdropped spear to put vital reporting instruments in parts of Antarctica only accessible by plane. Twenty-five of the spears have been strategically dropped in Pine Island Glacier (PIG), currently one of the world's largest net contributors of ice to the sea.



To support BAS's mission to track glacier movement toward the sea, Maxtena provides the research center with a robust single band GPS/Iridium antenna. The antenna is able to perform in the harsh arctic environment and serves to relay the GPS data back to BAS to then track the PIG's movement towards the sea.



"We're extremely pleased to be able to equip British Antarctic Survey with our antenna technology, it's not easy finding an antenna capable of performing under such difficult conditions and I'm glad they're achieving the performance they require from our antennas," said Stanislav Licul, president and chief operating officer at Maxtena.



Through the hard work of Innovelec Solutions, one of Maxtena's largest distributors in the UK, BAS has a trusted partner able to provide the research center with high performance antenna solutions and close support.



More from Test & Measurement