Bridgeport Fittings Offers Combination Conduit Bodies for Both EMT and Rigid Conduit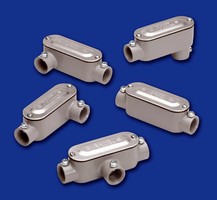 STRATFORD, Conn., Jan. 22, 2008 - Bridgeport Fittings offers customers combination conduit bodies for use with both EMT and rigid conduit, thus eliminating the need to stock separate units for each application. Constructed of rugged, copper-free aluminum, the combination bodies have a threaded interior for rigid applications and set screws for use with EMT. The design allows access to the interior of a conduit system for inspection, pulling and maintenance. The units also come pre-assembled with cover and gasket.

Bridgeport's combination conduit bodies are UL Listed (File no. E11077) and UL Listed Raintight when used with rigid conduit. The units are available in Type C, Type LB, Type LL, Type LR, and Type T in trade sizes up to two inches.

For more information, contact: Bridgeport Fittings, Inc., 705 Lordship Blvd., Stratford, CT 06615; Tel: (203) 377-5944; Fax: (203) 381-3488; or visit www.bptfittings.com.

Bridgeport Fittings is a leading supplier of quality fittings to the industrial, commercial and residential channels of the electrical industry.

More from Software