Brennan Industries Offers Custom-Made Fittings To Meet Users' Exact Needs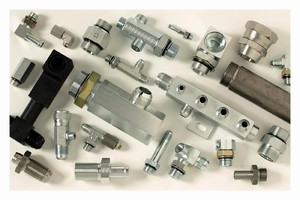 CLEVELAND - April 2008 - Brennan Industries Inc. has the capability to manufacture custom designed fittings, solving users' unique design problems where standard fittings are not feasible.

OEM designers simply provide Brennan Industries specs of the desired custom fitting. Per the customer's concept or request, Brennan can provide a drawing, prototype or production run of the unique fitting. Brennan can also manufacture one custom fitting if only one is needed.

Brennan quickly turns around all requests, which include different thread combinations for steel, stainless steel or brass fittings, often within two weeks.

"If designers can think of it, we can make it. We can manufacture any kind of fitting to help users with their special design needs," said Bill Jarrell, vice president of sales, Brennan Industries.

About Brennan Industries
Supplying a wide range of industries throughout the world, Brennan offers more than 20,000 standard and special products in sizes ranging from 1/8 inches to 2-1/2 inches. These include pipe and straight-thread fittings, O-ring face-seal fittings, 37-degree flare tube fittings, bite-type fittings, metric fittings, international fittings, and a double ferrule instrumentation tube fitting line. Most products are available in carbon steel, stainless steel and brass, and meet or exceed J.I.C., S.A.E. and other specifications.

Brennan products are stocked at five strategically located, full-service distribution centers in Atlanta, Cleveland, Dallas, Los Angeles and Seattle.

For more information on Brennan custom-made fittings, contact: Brennan Industries Inc., 6701 Cochran Road, Cleveland, OH 44139. Phone: (440) 248-1880. Toll free: (888) 331-1523. E-mail: sales@brennaninc.com. Fax: (440) 248-7282. www.brennaninc.com.

Please send inquiries to: Bill Jarrell, Brennan Industries, 6701 Cochran Road, Solon, OH 44139.


More from Computer Hardware & Peripherals