Breathing Air System supplies four people with air.
Press Release Summary: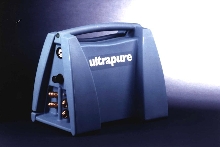 Portable ultrapure(R) ALG 20 provides healthy breathing air in locations where compressed air is centrally pre-purified and carbon monoxide and carbon dioxide concentrations in compressed air do not exist. Air passes into breathing masks via pressure-reducing valve at rates up to 53 cfm. No electrical power is needed. Suitcase type system weighs 14 lb and measures 15 x 18 x 8 in. It has 2 filters, filter-exchange indicator, and condensate drain.
---
Original Press Release:
New Breathing Air System by ultrafilter

Health hazards for workers increase in environments where the air is contaminated by the process itself, such as sandblasting, varnishing or paint production, chemical or plastics industries, or any workplace where the air quality is impaired. Purification of the compressed air is essential in those cases to ensure that a safe and acceptable breathing air quality is achieved.

ultrafilter offers a portable breathing air system called ultrapure(R) ALG 20. The ALG20 provides a convenient and economical solution where compressed air is centrally pre-purified and carbon monoxide (CO) and carbon dioxide (CO2) concentrations in the compressed air do not exist. This system provides healthy breathing air, which passes into the breathing masks via a pressure-reducing valve.

With a volume flow rate of 35 cfm (53 cfm max.), the system can provide breathing air for up to four people.

Other advantages of this system include:
- No electrical power needed
- Easy to handle and tamper proof
- Filter-exchange indicator
- Integral condensate drain
- No main connection required

The ultrapure(R) ALG 20 breathing air system includes a high-efficiency filter combination consisting of one sub-micronfilter SMF and one activated carbon filter AKP each, which are easily accessible after the front cover has been opened. Condensate is discharged via a mechanical float-controlled drain. Installed on the sub-micronfilter, the economizer determines the most efficient time for a filter exchange via a microprocessor controlled differential pressure gauge and reduces operating costs up to 70%. For particles and oil in the compressed air, this system reaches quality class 1 (ISO 8573). The integral pressure regulator regulates inlet pressure values of 232 psi maximum. After connection of the incoming and outgoing compressed air lines, the system is ready for operation. Lightweight and easy to handle, the suitcase type system weighs only 14 lbs., and is only 15" h x 18" w x 8" in depth.

For more information, please contact:
Chris Brooks
Customer Service Manager;
ultrafilter inc.;
3560 Engineering Drive;
Norcross, GA 30092;
Email: cbrooks@ultrafilter-us.com;
Toll free: 1-800-543-3634;
Website: www.ultrafilter-us.com
More from Services