Brake Pad Attachment meets OEM specifications.
Press Release Summary: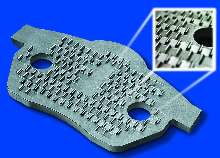 FeinGrip fineblanked brake pad attachment system features steel brake plate and array of integral, precisely angled teeth that lock pad to plate when friction material is molded and cured around teeth. System provides inside/outside ear-to-ear tolerance of ±0.03 mm, flatness of 0.02 mm/25 mm, and edge perpendicularity of 0.05 mm. Brake plate flatness prevents vibration and chatter under load. In-tool deburring eliminates need for post-process grinding.
---
Original Press Release:

Feintool Introduces FeinGrip(TM) Patented Brake Pad Attachment System


World's only fineblanked pad attachment system, mechanical-locking technology meets OEM and aftermarket

Cincinnati, OH, October 2002 - Disc-brake system designers now have a new option with the introduction of the FeinGrip(TM) attachment system, a patented development of Feintool, the global leader in fineblanking technology. Available from Cincinnati-based Feintool System Parts, the FeinGrip system meets the highest OEM specs for strength and dimensional tolerances, as well as aftermarket needs for affordability and quick manufacture.

The FeinGrip system is the world's only fineblanked brake pad attachment design. Its steel brake plate features an array of integral, precisely angled "teeth" that lock pad to plate when friction material is molded and cured around the teeth. The FeinGrip system is available in aftermarket and OEM versions.
Precision-built tooling ensures the FeinGrip system delivers critical brake plate dimensions which OEMs require, but traditional stamping often cannot deliver. The Feintool system provides:

o inside/outside ear-to-ear tolerance of ±0.03mm;
o flatness of 0.02mm/25mm;
o edge perpendicularity of 0.05mm; and
o consistent tooth height.

Brake plate flatness is key to preventing vibration and chatter under load. In-process restriking/sizing ensures proper flatness for quiet operation and perpendicularity for proper fit within the brake caliper. Patented in-tool deburring eliminates need for post-process grinding, which can alter part overall dimensions. Special cutting and shaping procedures deliver precisely angled tooth profiles to meet strict OEM tooth height requirements.

Visit Feintool at booth number 103 of the SAE Brake Colloquium and Exhibition on October 6-9, 2002 in Phoenix, AZ.

For more information on the FeinGrip brake pad attachment system, contact Hans Schreyer, Project Manager; Feintool System Parts; 11280 Cornell Park Drive; Cincinnati, OH 45242. Phone: 513-247-0110. Fax: 513-247-0060. Internet: www.feintool.com

More from Material Handling & Storage