Brake Management System targets agricultural machines.
Press Release Summary: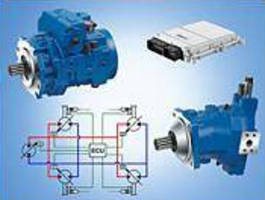 Based on electrically variable pumps, zero displacement motors, and intelligent control electronics, Hydrostatic Brake Management System prevents diesel engine from overspeeding. Braking algorithm, which is stored in BODAS controller, moves pump back instantly when pressure is applied to brake pedal, reducing geometric displacement of pump accordingly. Pressure-relief valves fitted to all hydrostatic travel drives allow system to achieve braking effect greater than drag torque of engine.
---
Original Press Release:

High-Performance Driving and Braking Systems - Greater Braking Performance and Diesel Overspeed Protection for Agricultural Machines through Rexroth's Patented System



Greater braking performance and diesel overspeed protection for agricultural machines through Rexroth's patented system.

Electrically variable pumps, motors with zero displacement and intelligent control electronics form the basis for Rexroth's patented hydrostatic brake management system.

Larger vehicle masses and higher speeds for self-propelled agricultural machines mean that more and more focus is being placed on the issue of brake management. Rexroth has developed an electronic brake system that increases the brake portion provided by the hydrostatic drive, relieving the mechanical drive brake and reducing wear. At the same time, the new system automatically prevents the diesel engine from overspeeding. Depending on the design of the travel drive concerned, additional brake and drive functions such as antilock brake system (ABS) or traction control (ASR) can easily be integrated into Rexroth's high-performance hydrostatic brake system.

The new electronic brake system is based on Rexroth's high-performance hydrostatic travel drive system. Its power density has been significantly enhanced by the new series of axial piston units, the A4VG (pump) and A6VM (motor). The pump/motor combination provides for efficient drive, even under load limiting conditions. Besides acceleration, higher speeds and greater vehicle masses also mean that the issue of deceleration is gaining in importance.

With conventional hydrostatic deceleration, braking performance is limited by the drag torque of the diesel engine on which the hydraulic pump is supported when braking. In highly unfavorable cases, the pump could even transmit too much moment to the diesel engine, causing it to overspeed and leading to severe and costly damage.

The new high-performance brake system prevents this from happening. Rexroth's patented braking algorithm, which is stored in the BODAS controller, moves the pump back in an instant when pressure is applied to the brake pedal. This reduces the geometric displacement of the pump accordingly. In conjunction with the maximum system pressure, it thus generates the precise degree of moment that the diesel engine is able to absorb. The possibility of overspeeding is thus ruled out.

This extremely fast pump response is made possible by reducing the displacement of the A6VM motors while retaining hydraulic ratio of the transmission. Immediately afterwards, the motors move out again and the displacement increases according to the desired braking effect. Here, the finely controlled, and above all very fast adjusting the Rexroth A6VM hydraulic motors give the driver a natural and repeatable braking feel - especially when compared to the familiar "inching".

Pressure-relief valves, which are fitted to all hydrostatic travel drives, allow Rexroth's new brake system to achieve a braking effect greater than the drag torque of the diesel engine. Part of the oil flow from the motor flows through the pressure-relief valve to the tank, generating additional deceleration. Here, only the brake energy that exceeds the maximum drag torque of the diesel is converted into heat. The incorporation of the pressure-relief valve enables the new Rexroth brake system, which is stored in the BODAS electronics to make use of the maximum brake potential of the hydraulic drive system - regardless of the drag torque of the diesel engine. This relieves the load on the mechanical brake far more than a conventional hydrostatic brake, which has a positive follow-on effect in operating and maintenance costs. Depending on the design of the hydrostatic travel drive, the vehicle manufacturer is even able to make the mechanical drive brake smaller from the very outset, saving additional costs.

Rexroth's new brake system can be implemented using existing components, with little complexity and without the need for additional valves. It is thus a cost-effective way of enhancing the functionality of the machine. Moreover, additional functions to enhance safety and ride comfort can also be integrated, for example traction control (ASR) or antilock brake system (ABS).

Bosch Rexroth AG will present its products at the AGRITECHNICA 2007 in Hall 9, Stand 09F05.

Bosch Rexroth AG is one of the worldwide leading specialists in the field of drive and control technologies. Under the brand name of Rexroth the company supplies over 500,000 customers with tailored solutions for driving, controlling and moving plant and machinery, which are used in industrial and factory automation as well as in mobile applications. Being The Drive & Control Company, Bosch Rexroth develops, produces and sells components and systems in more than 80 countries. In 2006 the company of the Bosch Group achieved sales of approximately 4.9 billion Euro with over 29,800 employees.

For more information please click: www.boschrexroth.com

Reader Inquiries:

Olaf Marshall

Phone: +49 (0) 73 08 - 81 70 - 22 62

Fax: +49 (0) 73 08 - 81 70 - 26 83

E-mail: olaf.marshall@boschrexroth.de

Address: P.O. Box, D-89070 Ulm, Germany

Internet: www.boschrexroth.com/brm

More from Architectural & Civil Engineering Products