Brady's New S3100 Sign and Label Printer Offers Built-In Design Wizards
Press Release Summary: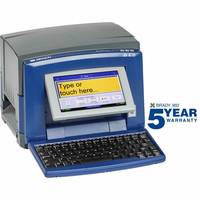 BradyPrinter S3100 Sign and Label Printer from Brady is suitable for on-demand label and sign creation applications. The printer comes with touchscreen display, keyboard, Wi-Fi connectivity and print smart technology enable speed material changeovers. Units can be used in arc flash or GHS chemical labeling by connecting to PC with Brady Workstation label creation software.
---
Original Press Release:
Brady Launches New BradyPrinter S3100 Sign and Label Printer: New Printer Offers Easy, Walk-Up-and-Print Label Creation on the Spot
MILWAUKEE, Wis. (April 5, 2018) — Brady (NYSE:BRC), a global leader in industrial and safety printing systems and solutions, announced today the launch of the BradyPrinter S3100 sign and label printer. The new printer is ideal for on-demand label and sign creation and has an integrated touchscreen display and keyboard for all-in-one label creation. Users will also benefit from print smart technology that allows for fast material changeovers and an updated, easy-to-use interface for simple walk up-and-print label creation. 
"The new BradyPrinter S3100 replaces the popular BBP®31 sign and label printer and improves functionality for even more efficient printing," said Tom Smith, regional product manager at Brady. "The improved cutter expands the material offering to include durable ToughStripe™ floor marking and additional product identification materials, making it a more versatile option for printing throughout a facility. We also added a print queue function that allows users to start their next printing project while the previous one is still printing. Both of these features help users get more done throughout their facility, and get it done quickly so they can turn their focus back to their work."
The printer includes built-in design wizards for fast, on-the-spot sign and label creation. For more complex identification projects, like arc flash or GHS chemical labeling, the printer can be connected to a PC with Brady Workstation label creation software. Additional printer features include Wi-Fi capabilities for ease of connectivity, a more responsive touchscreen for an improved user experience and a mouse for added versatility.
For more information on the S3100, visit bradyid.com/s3100.
For More Information
For the complete product offering from Brady, visit BradyID.com.
About Brady Corporation: 
Brady Corporation is an international manufacturer and marketer of complete solutions that identify and protect people, products and places. Brady's products help customers increase safety, security, productivity and performance and include high-performance labels, signs, safety devices, printing systems and software. Founded in 1914, the Company has a diverse customer base in electronics, telecommunications, manufacturing, electrical, construction, medical, aerospace and a variety of other industries. Brady is headquartered in Milwaukee, Wisconsin and as of July 31, 2017, employed approximately 6,300 people in its worldwide businesses. Brady's fiscal 2017 sales were approximately $1.11 billion. Brady stock trades on the New York Stock Exchange under the symbol BRC. More information is available on the Internet at www.bradycorp.com.
Media Contact: 
Jackie Hahn, (414) 438-7024 
Jackie_Hahn@bradycorp.com
Product Contact:
Tom Smith, (414) 438-7031
Tom_Smith@bradycorp.com
More from Electrical Equipment & Systems