Bradley's Verge® With Washbar™ Wins Prestigious International 2017 Good Design Award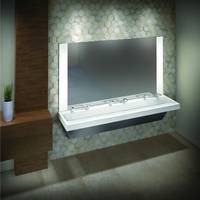 MENOMONEE FALLS, Wis., (January 9, 2018) - The completely touchless all-in-one Verge® with WashBar™ Technology created by hand washing innovator Bradley Corp., has received the prominent 2017 GOOD DESIGN® Award. Presented by The Chicago Athenaeum: Museum of Architecture and Design in cooperation with the European Centre for Architecture Art Design and Urban Studies, the Verge with WashBar earned a winning designation in GOOD DESIGN's Bath/Accessories category.
Designed to enhance all the fundamentals of hand washing, the streamlined Verge with WashBar integrates Bradley's Verge basin in durable and sustainable Evero® quartz material along with unique touch-free clean+rinse+dry functionality housed in the WashBar feature. The result is a single cohesive and elegant design that creates an inviting and intuitive space for a fresh, complete and touchless hand washing experience.
GOOD DESIGN is renowned as the world's most prestigious and oldest product design award program. Founded in 1950 in Chicago by architects Eero Saarinen, Charles and Ray Eames, and Edgar Kaufmann Jr., GOOD DESIGN recognizes outstanding product design, innovation and sustainability among new consumer products designed and manufactured in Europe, Asia, Africa, and North and South America.
"Bradley is honored to have won the prestigious 2017 GOOD DESIGN Award for the Verge with WashBar," said Jon Dommisse, strategic planning and corporate development, Bradley Corp. "We developed this all-in-one product based on input from design professionals around the world. In effect, the Verge with WashBar improves user-focused functionality, accessibility, convenience, aesthetics and safety in commercial washrooms."
In addition to GOOD DESIGN, the Verge with WashBar has been recognized in 2017 with the following design awards from a number of trade publications representing a range of industries:
WashBar's award-winning clean+rinse+dry technology
The smart WashBar, which houses soap, water and dryer, is designed with LED lighting and icons to visually orient users through the hand washing process. The WashBar also features a one-gallon soap container that requires fewer refills. When the low level LED indicator illuminates, the soap container is replaced with a new full container. The dryer is engineered to balance airflow and noise, and works in tandem with the bowl to minimize water splashes on the user and floor, maximizing user safety.
Technology used in the WashBar also provides water-, energy- and maintenance timesaving features, including a 0.5 GPM or ultra-high efficient 0.35 faucet option and a large replaceable soap dispenser. Its adjustable speed hand dryer dries hands in 12-15 seconds with a comfortable heated air stream, and is 96% less expensive to use than paper towels.
Bradley's winning Verge with WashBar entry can be viewed at http://good-designawards.com/award-category.html?cat=29541&page=2.
All winning products and graphics for 2017 GOOD DESIGN can be viewed at www.good-designawards.com or www.chi-athenaeum.org.
For 67 years, GOOD DESIGN has been the oldest and most prestigious Global Awards Program for design excellence and innovation. For eight decades since its inception, The Chicago Athenaeum continues the organization of the program to create awareness about contemporary design and honor both products and industry leaders in design and manufacturing that have chartered new directions for innovation and pushed the envelope for competitive products in the world marketplace.
For 97 years, Bradley Corporation has designed and manufactured commercial washroom and emergency safety products, and today is the industry's leading source for commercial plumbing fixtures, washroom accessories, restroom partitions, solid plastic lockers, and emergency safety fixtures and industrial grade electric tankless heaters. Headquartered in Menomonee Falls, Wis., Bradley serves the commercial, industrial, health care, retail, and education markets worldwide. For more information, contact Bradley at 1-800-BRADLEY or www.bradleycorp.com.