BOXER-6640 Embedded Controller features 8-bit DIO.
Press Release Summary: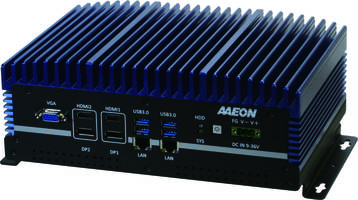 BOXER-6640 Embedded Controller comes with 6th or 7th Generation Intel® Core™ desktop processor and is suitable for factory automation and machine vision applications. Unit features two LAN ports, four USB3.0 ports, and three USB2.0 ports for connecting to cameras and sensors. Product can withstand to power surges drops and operated in -20 to 55°C temperature range with input voltage range of 9 V to 36 V.
---
Original Press Release:
The AAEON BOXER-6640 Helps You Control Factory Automation with More Power
AAEON, an award-winning developer of embedded systems, is pleased to announce the release of the BOXER-6640, an embedded controller with a 6th or 7th Generation Intel® Core™ Desktop Processor and support for DDR4 memory.
The BOXER-6640 is purpose built for factory automation and machine vision applications. With two LAN ports, four USB3.0 ports, and three USB2.0 ports, it can be connected to a range of cameras and sensors, and its 8-bit DIO enables it to control connected systems based on digital inputs. As it also has a VGA port and two further combined HDMI and DP ports for dual display output, this controller can easily serve as the hub of an effective HMI solution.
The BOXER-6640 is a rugged, fanless system and features a tough casing and an operational temperature range of -20°C to 55°C. It can withstand power surges and drops and has a DC input range of 9V to 36V. The system is also resistant to vibrations, especially when fitted with SSD storage instead of an HDD. Additional storage is available in the form of full-size mSATA and PCIE Mini Cards.
"The BOXER-6640 perfectly complements AAEON's wide range of embedded controllers," system platform division product manager Roy Huang said. "Its powerful processor and diverse I/O interface mean it will be the perfect solution for companies working in a wide range of fields."
About AAEON
Established in 1992, AAEON is one of the leading designers and manufacturers of professional intelligent IoT solutions. Committed to innovative engineering, AAEON provides reliable and high quality computing platforms, including industrial motherboards and systems, industrial displays, rugged tablets, embedded controllers, network appliances and related accessories, as well as integrated solutions. AAEON also has the hardware and services for premier OEM/ODMs and system integrators, worldwide. Being an Associate Member of the Intel® Internet of Things Solutions Alliance, AAEON offers customized end-to-end services from the initial product conceptualization and board product development to mass manufacturing and after-sales service programs. Peruse AAEON's expansive line of products and services by visiting www.aaeon.com.
Related