Box Modems have e-mail and FTP modes for data transfer.
Press Release Summary: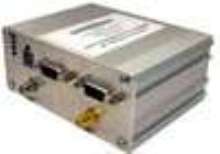 Intelligent wireless modems 5WEBox Lite GSM/GPRS and 5WEBox Lite GSM/GPRS GPS provide integrated I/O signal conditioning, 8-40 V power supply, and optional GPS housed in aluminum enclosure. Former includes GSM/GPRS modem and TCP/IP stack as well as support for application level modes suited to M2M applications. With support for 3 analog inputs, 2 digital inputs, and 2 digital outputs, both can log data from attached equipment over RS232 host serial port into on-board E2prom memory.
---
Original Press Release:

5WEBox Lite GSM/GPRS & GPS Intelligent M2M (Machine to Machine) Rugged Box Modem Family Launched by Comtech


~ Intelligent wireless TCP/IP modems, which support application features including E-mail, FTP and automated I/O & GPS location reporting.

~Part of a Box-to-Module-to-License design philosophy offering rapid time to market.

~Eases integration of legacy equipment with Central Management applications.

November 15th, 2004.

Comtech Holdings Ltd (www.comtechM2M.com), the leading Machine to Machine ( M2M ) Solution Provider, today announced the release of two products as an extension to the 5WEB Lite family of intelligent wireless M2M modems. These new products mark the release of Comtech's first rugged box M2M communication products to complement a family of OEM Machine to Machine modules. The two products are known as: -

1. 5WEBox Lite GSM/GPRS

2. 5WEBox Lite GSM/GPRS GPS

These products are directly compatible with Comtech's 5WEB Lite GSM/GPRS OEM embedded modules and additionally provide integrated I/O signal conditioning, 8-40 volt power supply and optional GPS housed in a rugged aluminium enclosure. The 5WEBox Lite GSM/GPRS products not only include a GSM/GPRS modem and TCP/IP stack for ease of communication over the Internet, but also support higher application level modes suited to M2M applications. The automated mode enables the unit to wake-up upon an I/O change, on-board Real Time Clock (RTC) schedule or network prompt and automomously report I/O or GPS status via SMS, GSM or TCP/IP socket connection over GPRS and the Internet. This is ideal for standalone applications where there is no local intelligence. 5WEBox Lite supports 3 analogue inputs, 2 digital inputs and 2 digital outputs. They can log data from the attached equipment over the RS232 host serial port into an on-board E2prom memory. The E-mail mode enables the E2prom data log to be sent as an E-mail attachment. Likewise the FTP mode supports data transfer between the on-board data log and central FTP server. A key feature of the FTP mode is the support for streaming data directly to the host serial port for large data files. Available NOW.

Application Examples.

5WEBox Lite supports a wealth of features that can be used in many applications. Applications include: -

o Transportation - identify location & status of chilled and perishable products during transportation.

o Industrial Automation - monitor status & alarms of remote equipment from a central location

o Environmental Monitoring - automate legalative reporting to government agencies.

o Vending - identify brand usage & fault status to manage maintenance and inventory management.

o Gaming - determine game performance, usage and machine status to maximise revenues.

o HVAC - monitor the status and alarms of remote equipment from a centrally managed location

o Ticket Machines - identify ticket status and adjust ticket prices to reduce maintenance overhead.

o Security Systems - centrally monitor alarm status and report user or intruder access

o Domestic Appliances - Test trial new appliances to improve reliability prior to product launch.

o Automated Electronic Displays - deliver advertising and customer information content.

o Tank Level Monitoring - Monitor petro-chemical levels for Vendor Managed Inventory (VMI)

o Traffic Systems - Monitor vehicle location and provide passenger information to automated signs

o Remote Data Collection - Log data from any equipment and deliver to a central application.

"M2M communication changes the way companies do business through the ability to offer ongoing services beyond traditional product sales. 5WEBox Lite enables companies to rapidly adopt M2M technology, prove new business models and show a Return on Investment through these products abilities to adapt existing equipment without undertaking lengthy developments..." said Steve Whitehead, Technical Director, Comtech Holdings Ltd.

"Having proven the technology and the business case, Comtech can offer a roadmap to higher integration and lower cost through OEM module and design licence options".

Development Tools - This launch is complemented with the release of a PC Configuration Tool and a development Starter Kit to simplify evaluation and aid design integration.

Customisation - Comtech offer design customisations for 5WEBox Lite, by incorporating customer and market specific application needs.

About Comtech Holdings Ltd

Comtech Holdings Ltd., www.comtechM2M.com, Bolton, UK, provide scalable Machine-to-Machine (M2M) solutions from simple modems through to end-to-end systems. Comtech offer a "one-stop shop" including hardware, software and services enabling connectivity to remote equipment, to obtain and facilitate business decisions based on real-time information. Comtech's solutions are suited to many diverse markets including HVAC, Gaming, Vending, Security, Utilities, Industrial Automation, Transportation, Retail Equipment, Office Business Systems ... and many more.

Contacts

Steve Whitehead
Comtech Holdings Ltd, Comtech House, 28 Manchester Road, Westhoughton, Bolton, Lancashire, BL5 3QJ, UK
Web: www.comtechM2M.com , Email: sales@comtechM2M.com , Tel: +44 (0) 1942 851800, Fax: +44 (0) 1942 851808

More from Laboratory and Research Supplies and Equipment