Boundary Scan Controller complies with PCI bus specification.
Press Release Summary: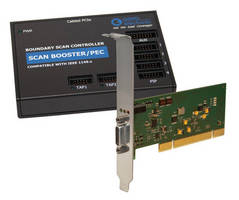 SCANBOOSTER/PCI-DT boundary scan controller supports JTAG/Boundary Scan tests, VarioTAP® emulation tests, and in-system programming for PLD/FPGA as well as Flash serial EEPROM devices. Product consists of PCI plug-in card, external Test Access Port (TAP) transceiver unit, and 2 separate TAPs that can be programmed independently. Additional resources include 32 voltage-level-programmable, dynamic parallel I/O; two ADC/DAC channels; external trigger signals; and 3 static I/O.
---
Original Press Release:

New Low Cost Boundary Scan Controller for PCI Bus



At the "Embedded World" in Nuremberg/Germany GOEPEL electronic, a world-class vendor of JTAG/Boundary Scan solutions compliant with IEEE Std. 1149.x introduces the SCANBOOSTER/PCI-DT, a new high-performance, low cost Boundary Scan controller, as an addition to the company's SCANBOOSTER(TM) product line.

The new Boundary Scan controller is compliant with the PCI bus specification and supports JTAG/Boundary Scan tests, VarioTAP® emulation tests, In-System Programming (ISP) for PLD and FPGA, as well as In-System Programming for Flash serial EEPROM devices of moderate size.

"SCANBOOSTER/PCI-DT was developed to open the PCI bus' high performance for low cost Boundary Scan applications with signal critical distances", says Bettina Richter, GOEPEL electronic's Corporate Marketing Manager. "With this step, we not only extend our SCANBOOSTER(TM) product portfolio but address new utilisations in cost focussed areas."

SCANBOOSTER/PCI-DT consists of a PCI plug-in card coupled with an external TAP transceiver unit, whereby distances can be up to four meters. It features two separate Test Access Ports (TAPs) and supports a programmable TCK frequency up to 16 MHz. Exchangeable TAP Interface Cards (TIC) make the controller flexible and future-proofed. Test bus parameters such as output and input voltage as well as output and input impedance can be programmed independently for both TAPs.

As additional resources, the controller provides 32 voltage-level-programmable, dynamic Parallel I/O, two ADC/DAC channels, external trigger signals, and three static I/O. Thus, it is ready to be deployed for extended test and PLD/Flash programming operations.

Programs developed for the controller are cross-compatible with any controller of the SCANBOOSTERr(TM) series or the innovative SCANFLEX® Boundary Scan platform.

SCANBOOSTER/PCI-DT is fully supported by the industry leading Boundary Scan software SYSTEM CASCON(TM). SYSTEM CASCON(TM) is the only completely integrated development environment with a powerful Mixed-Signal programming language (CASLAN) for IEEE Std.1149.x, featuring more than 40 tools for Automatic Test Program Generation (ATPG), pin-fault diagnostics, VarioTAP® emulation test, in-system programming (ISP), debugging, schematic and layout visualisation, and more.

About GOEPEL electronic:

GOEPEL electronic is a worldwide leading vendor of professional JTAG/Boundary Scan solutions and technology innovator of IP based instrumentation. With more than 100 product launches the company became the biggest innovator in the market within the last five years. A network of branch offices, distributors and service partners ensures the global availability of the products as well as the support of the more than 7,000 system installations. Founded 1991 and headquartered in Jena, Germany, GOEPEL electronic employs currently about 160 employees and generated a revenue of 17.9 Million Euro in 2009. GOEPEL electronic has continuously been ISO9001 certified since 1996 and has been honoured with TOP-JOB and TOP-100 awards for being one of the best medium-sized companies in Germany. GOEPEL electronic's products won several awards in recent years and are used by the leading companies in telecommunication, automotive, space and avionics, industrial controls, medical technology, and other industries. Further information about the company and its products can be found on the internet at www.goepel.com.


More from Software