Boston Drivers are a little dryer thanks to an Emergency Pipe Repair by Pumpcoat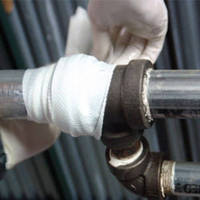 A 6 inch ductile iron pipe had been leaking for some time at one of the Pumping Stations in the Sumner Tunnel.  (The pipe was part of the piping system called an Increaser that went from 6 to 8 inches over the span of about a foot.) The Department of Transportation Maintenance person had tried other types of repairs including clamps and welding, but it still leaked and was getting worse.



With a little online research, he found that Pumpcoat had had previous success with emergency repairs using pipe wrap products manufactured by NRI, so Pumpcoat was called. A Pumpcoat Field crew mobilized to the pump station and expertly repaired the pipe using the Syntho-glass products. 



The Syntho-glass pipe wrap products are pre-impregnated fiberglass resin cloths, available in a variety of sizes to fit various dimensions of pipe.   Water activated, they cure in about half an hour at 75 degree temp.(different cure times for other temperatures) The finished repair is a permanent one, and stronger than the original pipe.    Other products that work with the pipe wrap system allow pipes under pressure to be repaired as well, without the system needing to be shut down.  Pumpcoat has used the  Pipe Wrap products for many different applications including Marine, Home, and at Power generation plants.  They can be used for repairs or reinforcement on straight pipes, Tees, Joints or irregular piping.



The customer was happy with the results of the project, and the City of Boston was a little bit dryer.   If you have issues with leaking pipes, the need for emergency repairs or just want to have some pipe wrap on hand in case, please call Yvonne or Mike at Pumpcoat, 508-540-5878 or visit us on the web www.pumpcoat.com.



More from Agricultural & Farming Products