Bosch Showcases Secondary Packaging Solutions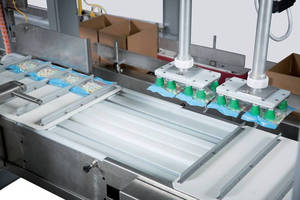 Strengthening position as single-source solutions provider



Focus on flexibility and quick changeovers

Improved ergonomics for workplace safety

Efficiency and streamlined design for maximum OEE



Chicago – At PACK EXPO International 2014, Bosch Packaging Technology, a leading supplier of processing and packaging solutions, will feature several technologies from its secondary packaging portfolio. The show will mark the North American debut of the Sigpack TTMC case packer, designed for maximum versatility, and the Elematic 3001, a highly flexible and ergonomic wrap-around case packer. Bosch will also present its adaptable CCM case packer for vertical and horizontal bag presentation.



"Our secondary packaging equipment is built for ease-of-use and reduced total cost of ownership (TCO), and can be run 24 hours a day, seven days a week," said Paul Garms, marketing manager, Bosch Packaging Technology Inc., New Richmond. "Combined with our primary packaging technologies, this portfolio of technologies addresses manufacturers' need for a single-source solutions provider."



Sigpack TTMC case packer: maximum flexibility and OEE

Presented to North American manufacturers for the first time, the Sigpack TTMC case packer is designed to handle a variety of pre-packed food, non-food and pharmaceutical applications, including those in flow-packs, trays, cartons, pouches and bags. The machine can be adjusted quickly, easily and without tools to the required format and product configuration with vertical start-up. Able to run at a high feeding rate, products can be supplied flat or on edge, as well as packaged into Regular Slotted Container (RSC), Half Slotted Container (HSC), with retail-ready functionality. Multiple case closing options are available, ranging from a tape or hot melt solution to the release of unsealed cases for third-party closure.



The case erecting, robotic loading, and optional case closing units are all integrated in the case packer, resulting in a highly compact machine. Additionally, the speed of all components is balanced to eliminate bottlenecks, optimize production flow, and maximize overall equipment effectiveness (OEE). The system's fully flexible feeding wheel can accommodate various factory layouts by positioning the case packer inline, at a 90-degree angle, or other angles.



Another benefit of the Sigpack TTMC is its ergonomic design, which includes lightweight format parts and easily accessible doors, which are interlocked to prevent operators from accidentally opening them for increased workplace safety. The Sigpack TTMC is an extension of the Sigpack TTM platform for secondary and end-of line packaging which comprises various integrated or stand-alone toploading solutions for cartoning and case packing. The case packer will be on display as part of the Seamless Systems cracker packaging line, which has been designed for high productivity and optimum OEE.



Elematic 3001: increased uptime meets the latest in safety

For the first time in North America, Bosch will showcase its highly flexible Elematic 3001 wrap-around case packer. Developed to enhance workplace safety and ease of use, the machine's new ergonomic design offers several enhancements that help manufacturers meet increasingly stringent safety regulations around the globe. The Elematic 3001 features a low blank magazine height, making operation easier and minimizing the risk of injury. In addition, the hot melt system has been optimized with an external granulate container, which helps protect operators when refilling glue.



Thanks to its Elematic click system, the Elematic 3001 features quick and easy format changeovers without using tools. When parts lock into place, operators are notified with a click sound and aligned color-coded components, letting them hear and see that the format changeover is complete. This makes changeovers clear and reproducible, and helps eliminate time-consuming corrections. This is only one example where the incorporation of the Total Productive Maintenance (TPM) concept helps to maximize uptime. The case packer runs multiple pack styles including tray, classic full wrap-around, ledge tray as well as two-part shelf-ready packaging.



CCM 3100: versatile case packing of bags and flow-wrapped packages

To meet the need for flexible case packaging, Bosch will present its CCM 3100 case packer for vertical and horizontal bag presentation. Designed to meet manufacturers' demands for shorter production runs and more frequent changes in product packaging styles, this case packer features a wide format range in both bag and case sizes and styles, including the RSC, HSC and other shelf-ready packaging styles. As a result, the CCM 3100 offers the flexibility manufacturers need to meet changing retailer demands.



The CCM 3100 is designed for easy integration with vertical form, fill and seal (VFFS), as well as horizontal form, fill and seal (HFFS) machines. Capable of picking and placing up to 180 products per minute, the machine's single frame is attached to an infeed system that accepts products from VFFS and HFFS primary packaging machines. Depending on the product characteristics, products can be handled individually or in groups, and are picked and placed by a two-axis robot with vacuum or gripper end-effectors.



Additionally, the case packer setup can be quickly changed to accommodate vertical (stand up) or horizontal (lay flat) bag orientation and its open frame enables easy access for quick changeovers. The CCM 3100 will be displayed as part of a Module++ line, which links the company's proven standard modules for customized processing and packaging solutions.



Food and pharmaceutical manufacturers can learn more about Bosch's latest secondary packaging solutions in the South Hall, booth S-3514 at PACK EXPO International in Chicago, Illinois, United States, November 2 to 5. Additional pharmaceutical solutions from Bosch can be seen at Pharma Expo, co-located with PACK EXPO, in the West Hall, booth W-603.



Press photo: 1-PA-20475, 1-PA-20476, 1-PA-20477



Contact:                                       

Paul Garms,                                  

phone: +1 715 243-2503            



Contact person for press inquiries:

Christin Poenisch,

phone: +49 711 811-585 02



Based in Waiblingen near Stuttgart, Germany, and employing 5,600 associates, the Bosch Packaging Technology division is one of the leading suppliers of process and packaging technology. At over 30 locations in more than 15 countries worldwide, a highly-qualified workforce develops and produces complete solutions for the pharmaceuticals, food, and confectionery industries. These solutions are complemented by a comprehensive after-sales service portfolio. A global service and sales network provides customers with local points of contact. Additional information is available online at www.boschpackaging.com



The Bosch Group is a leading global supplier of technology and services. In 2013, its roughly 281,000 associates generated sales of 46.1 billion euros or $61.2 billion. (NB: Due to a change in accounting policies, the 2013 figures can only be compared to a limited extent with the 2012 figures). Its operations are divided into four business sectors: Automotive Technology, Industrial Technology, Consumer Goods, and Energy and Building Technology. The Bosch Group comprises Robert Bosch GmbH and its roughly 360 subsidiaries and regional companies in some 50 countries. If its sales and service partners are included, then Bosch is represented in roughly 150 countries. This worldwide development, manufacturing, and sales network is the foundation for further growth. In 2013, the Bosch Group invested some 4.5 billion euros ($6.0 billion) in research and development and applied for some 5,000 patents. This is an average of 20 patents per day. The Bosch Group's products and services are designed to fascinate, and to improve the quality of life by providing solutions which are both innovative and beneficial. In this way, the company offers technology worldwide that is "Invented for life." Additional information is available online at www.bosch.com, www.bosch-press.com and http://twitter.com/BoschPresse



In the U.S., Canada and Mexico, the Bosch Group manufactures and markets automotive original equipment and aftermarket products, industrial drives and control technology, power tools, security and communication systems, packaging technology, thermo technology, household appliances, healthcare telemedicine and software solutions. For more information, please visit www.boschusa.com, www.bosch.com.mx and www.bosch.ca.









More from Fluid & Gas Flow Equipment