Bosch Introduces SVP250 LF for Seamless Connections with ALF 500 and Other Preparation Systems
Press Release Summary: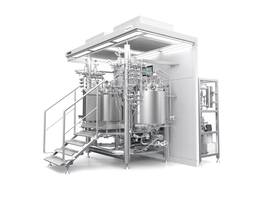 SVP250 LF is conical shape which minimizes product loss. Modules can be customized to include additional process vessels and can be flexibly exchanged. Designed for injection solutions, SVP250 LF processes small batches (15 to 20 litres). Modules are easy and flexible to install and are also equipped with a gassing module for nitrogen. Preparation vessel is separated from the storage vessel using a two-stage sterile filtration module. Laminar flow hood is an optional feature in the system.
---
Original Press Release:
New Bosch Processing System for the Flexible Production of Injection Solutions
Digital connection with filling machine
- SVP250 LF processing system minimizes product loss thanks to conical vessel shape
- Seamless connection with ALF 5000 filling and closing machine for vials and ampoules ensures rapid processing
- Connection between preparation system and filling machine enables optimal production planning

Stuttgart / Frankfurt, Germany – At Achema 2018, Bosch presents its new flexible processing system for an economic production of injection solutions. Above all, the system is characterized by its modular design. "Depending on customer preferences, the design allows the system to be expanded with additional process vessels, and modules to be flexibly exchanged," explains Dr. John Medina, sales director at the Bosch subsidiary Pharmatec, who was involved in designing the SVP250 LF. The seamless transport of the product from the processing machine to the ALF filling machine can be tracked using a LED visualization. Further, Bosch shows how data from the processing and filling machines is fed into a single system and visually displayed in an Industry 4.0 application.

Processing system with modular design
The SVP250 LF processing system on display is designed for injection solutions (Small Volume Parenterals, SVPs) with small batches ranging from 15 to 250 liters. The system includes both a preparation and a storage vessel. Depending on the desired volume, these process vessels can be expanded to four each, in a range of different sizes. "Moreover, the vessel's conical shape minimizes product loss during the emptying process. Given the costly materials the system handles, that translates into a concrete financial benefit," says Medina.

The preconfigured architecture allows processing modules to be easily and flexibly installed or exchanged, for instance for different temperature-control concepts or the feeding of different media like powders, liquids or gases. Liquid ingredients are automatically dosed by a pump. Since the process vessels are equipped with a gassing module for nitrogen, production can also take place under low-oxygen conditions.

Complete separation of technical and cleanroom area
The system features a module for two-stage sterile filtration for aseptic preparation, which is situated between the preparation vessel and storage vessel. It is also equipped with an optional laminar flow hood, which generates a low-turbulence air flow to prevent particles from entering the filling area. An integrated cleanroom wall completely separates the process vessels from the system's technical area. As a result, the cleanroom area is compact and easily accessible. Between production batches, an integrated CIP module cleans and sterilizes the system. For applications involving highly potent APIs, a containment flap is used, which also allows aseptic processing.

In line: communication between processing and filling machines
As a special highlight, visitors to the trade fair can expect to see a sample line configuration consisting of an SVP preparation system and ALF 5000 filling and closing machine. "The liquid product is directly transported from the storage tank to the filling machine," says Medina. "We have developed preconfigured concepts that ensure even special products like suspensions can be safely transferred with minimal product loss." The ALF 5000 continues to process the fluid immediately.

"Production on the processing system is already digitally controlled, as a higher- level control system communicates with the preparation system and monitors the entire process," says Medina. "The processing and filling machines exchange information through their HMIs, allowing them to coordinate each batch." In addition, data on the machine status or process parameters from both systems can be recorded, stored and visualized, which leads to improved transparency in production and shorter response times. The primary goals are optimal production planning and maximum capacity utilization.

Filling system for high process reliability
In addition to its suitability for Industry 4.0 applications, the ALF 5000 filling and closing machine delivers a high degree of process reliability and flexibility. In the combi configuration, the machine not only processes ampoules but also injection bottles. It can be equipped with all standard filling systems and four, six, eight, ten or twelve filling heads. A carrying walking beam system can be used for especially gentle handling. Here, the glass containers are lifted slightly so as to ensure they are not damaged by rubbing along the machine guides. Without sacrificing product quality, the ALF 5000 delivers output rates of up to 600 containers per minute.

As Tobias Goettler, product manager at Bosch Packaging Technology, explains, "The machine can be variably integrated into existing production processes and, just like the processing system, can be flexibly adapted to meet specific customer needs." According to Bosch's pharmaceuticals line competence, the system can easily be combined with upstream or downstream machines. Customers who order both their preparation and filling machines from Bosch receive a coherent overall concept and a number of further advantages: during project implementation, Bosch attends to the complete coordination of interfaces between systems, which fosters efficient planning and smooth processes. During the design phase, Bosch can already offer solutions to concerns like cross- contamination and sterile connections, together with uniform documentation and system qualification.

Bosch Packaging Technology at Achema: hall 3.1, booth C71 

Contact:
Klaus Schreiber, phone: +49 351 28278-833

Contact person for press inquiries:
Nicole Koenig, phone: +49 7951 402-648

Based in Waiblingen near Stuttgart, Germany, and employing 6,300 associates, the Bosch Packaging Technology division is one of the leading suppliers of process and packaging technology. At over 30 locations in more than 15 countries worldwide, a highly-qualified workforce develops and produces complete solutions for the pharmaceuticals, food, and confectionery industries. These solutions are complemented by a comprehensive after-sales service portfolio. A global service and sales network provides customers with local points of contact.

More information is available online at www.boschpackaging.com

The Bosch Group is a leading global supplier of technology and services. It employs roughly 400,500 associates worldwide (as of December 31, 2017). According to preliminary figures, the company generated sales of 78 billion euros in 2017. Its operations are divided into four business sectors: Mobility Solutions, Industrial Technology, Consumer Goods, and Energy and Building Technology. As a leading IoT company, Bosch offers innovative solutions for smart homes, smart cities, connected mobility, and connected industry. It uses its expertise in sensor technology, software, and services, as well as its own IoT cloud, to offer its customers connected, cross-domain solutions from a single source. The Bosch Group's strategic objective is to create solutions for a connected life, and to improve quality of life worldwide
with products and services that are innovative and spark enthusiasm. In short, Bosch creates technology that is "Invented for life." The Bosch Group comprises Robert Bosch GmbH and its roughly 440 subsidiaries and regional companies in 60 countries. Including sales and service partners, Bosch's global manufacturing, engineering, and sales network covers nearly every country in the world. The basis for the company's future growth is its innovative strength. At 125 locations across the globe, Bosch employs 62,500 associates in research and development.
Additional information is available online at www.bosch.com, iot.bosch.com, www.bosch- press.com, twitter.com/BoschPresse
More from Cleaning Products & Equipment