Boring Systems adjust to 0.000040 in. on tool radius.
Press Release Summary: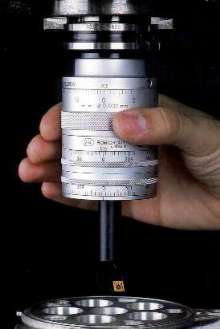 Romicron Systems finish high-precision bores by adjusting tip of boring tool. Series SVS includes 10 models with through-the-tool coolant, boring range of 25-183 mm, and spindle speed of 3,000-10,000 rpm. With bore range of 71-326 mm, Series SVU can be balanced to G 6.3 according to ISO standard 1940 by adjusting one dial. Spindle speeds range from 6,000-10,000 rpm. SVUBB1/SVUBB2 boring heads use replaceable boring bars that allow boring range of 4.0-16.5 mm and 6-25.5 mm, respectively.
---
Original Press Release:

ROMI Romicron® Provides Ultra-Precision, Ease of Use


ERLANGER, KY - Romi Machine Tools, Ltd, long an industry leader in turning and machining center technology, introduces the Romicron fine boring system. The Romicron is a reliable ultra-precise boring system for finishing high-precision bores by adjusting the tip of the boring tool in a completely unique, fast and thoroughly accurate fashion.

The Romicron system permits adjustments of 1.0µ (0.000040") on the tool radius without removing the tool from the machine. The system is ideal for production applications that demand statistical process control with CpK of 1.33 or greater. Boring range is 4.0 mm to 326 mm. There are five modular versions for applications with diameters starting at 50mm and larger.

Features
The Romicron's clearly marked graduated dial makes it easy to see each adjustment, and the definite stop at each graduation allows the operator to feel and hear the (click) adjustment. Further, there are no wrenches required for locking the tool, and adjustments are made without removing the tool from the machine. The Romicron KR coupling provides maximum stiffness on the taper through face-to-face contact and makes handling easy when assembling or disassembling to switch one Romicron head for another. The KR coupling enables the Romicron to run in another machine by changing appropriate adaptor. This translates to great versatility.

Romicron models
The Romicron SVS system features ten models with a boring range of 25 mm to 183 mm and offers through the tool coolant when coolant is available through the machine spindle. Coolant pressure ranges can be from 213 to 1000 psi at a spindle speed range of 3,000 to 10,000 rpm, depending on the model.

The SVU features three versions with a bore range of 71 mm to 326 mm. Built-in balancing allows the system to be balanced to G 6.3 according to ISO standard 1940 by adjusting only one dial. Allowable coolant pressures range from 284 to 1000 psi with spindle speeds of 6,000 to 10,000 rpm.

The SVUBB1/SVUBB2 boring heads use a number of replaceable boring bars that will allow a boring rage of 4.0 mm to 16.5 mm (SVUBB1) and 6 mm to 25.5 mm (SVUBB2). Both models include a built-in balancing mechanism. Maximum allowable coolant pressure is 1,000 psi. Maximum spindle speed for the SVUBB1 is 25,000 rpm and 10,000 rpm for the SVUBB2.

The SVUBB1S and SVUBB2S are designed for serial applications and have all the precision, functionality and features of other Romicron models. Due to their specific application, however, they are supplied pre-balanced according to the diameter to be machined.

All Romicron models adjust precisely to 1.0 µ (o.000040") on the tool radius.

For more than 75 years and some 140,000 installations Romi's innovation, reliability, dependability and ease-of-use have set it apart - and ahead of - the competition. Romi's combination and CNC lathes, turning centers and vertical machining centers are meticulously built at its eight-plant manufacturing complex
in Santa Barbara d'Oeste, Brazil, and are sold and supported in more than 60 countries. From its North American Headquarters in Erlanger, Kentucky, Romi provides an unparalleled degree of training, service and support for all Romi machine tool products.

For more information, contact Romi Machine Tools, Ltd; 1845 Airport Exchange Blvd.; Erlanger, KY 41018. Tel: 859/647-7566. Fax: 859/647-9122. Toll Free US & Canada: 1-877-ROMIUSA romiusacom. e-mail: sales@romiusa.

More from Electrical Equipment & Systems