Boring-Milling Machine provides spindle speeds to 6,000 rpm.
Press Release Summary: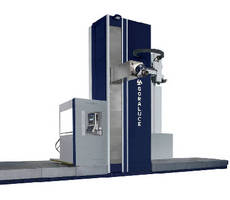 With 71 kW spindle power, floor-type Model FXR can perform drilling, reaming, tapping, milling, and boring functions on up to 5 sides of prismatic components. Machine offers longitudinal travels from 6,000-20,000 plus mm; vertical travels of 6,000, 6,500, and 7,000 mm; and cross travels of 1,600 or 1,900 mm. Standard control is Heidenhain iTC530, however, machine is also available with Siemens 840D, Fanuc 31i-A5, and others upon request.
---
Original Press Release:

Soraluce FXR Boring-Milling Machine Offers a Vertical Stroke Greater Than 6 Meters, Cross Travel of 1.9 Meters and Spindle Power to 71kW



Soraluce America, Inc. offering Soraluce Boring-Milling Machines to the North American Market

(Rockford, IL) Soraluce America, Inc. is now offering Soraluce boring-milling machines in North America. Soraluce is a leading European manufacturer of technologically advanced boring-milling machines. They offer a complete range of high quality machines and boring/milling heads which have become the benchmark for performance in the industry.

One of Soraluce's newest machines, the FXR, takes this performance to new levels. The FXR floor-type boring-milling machine is a multi-purpose boring and milling machine with features and options that make it extremely versatile for many applications. It can perform drilling, reaming, tapping, milling and boring functions up to five sides of a prismatic component in most cases in one set-up depending upon the application and accessories. It is particularly well-suited for wind power generation, mining, petroleum, construction, shipbuilding, railway, and heavy equipment applications as well as for subcontractors.

The long list of options includes fully equipped orthogonal, universal and horizontal boring heads, automatic head change and tool change systems, rotary and rotary travelling tables, floor and angle plates and many others. Depending upon the application, the machine can also be configured for pendulum machining, greatly reducing non-productive times. Together, these features result in excellent efficiencies, high productivity, minimal downtime and enormous cost savings.

While Soraluce machines offer many exceptional features, it is often their automatic boring/milling heads that set them far ahead of the competition. Their heads, which Soraluce manufactures in-house, are recognized as the best available in the world due to their engineering excellence, precision and reliability which combine to enable highly complex machining operations. The addition of their automatic head changer even further enhances the versatility of this machine.

The FXR offers a longitudinal (X-axis) traverse from 6,000 to 20,000-plus mm. Vertical (Y-Axis) traverse is available in 6,000, 6,500 and 7000mm travels, while the cross (Z-Axis) traverse can be 1,600 or 1,900mm. Spindle speed is offered to 6,000 rpm. The standard control for the FXR is the Heidenhain iTC530, however, it is also available with Siemens 840D, Fanuc 31i-A5 and others upon request.

Soraluce has nearly fifty years of experience as an integrated manufacturer of boring/milling machines. A part of the Danobat Group, the largest machine tool builder in Spain, Soraluce continues to grow and develop larger machines that meet the needs of the markets. In June 2009, Soraluce completed the addition of a new 5 million euro, 2,000 square meter machine assembly plant that offers a 14m overhead crane. This newest investment helps solidify their position as one of the top builders of large-size machine tools in the world.

Contact us today to learn more about the FXR or any of the Soraluce Boring/Milling Machines:

Company: Soraluce America, Inc.

Phone: 815-315-9261

Email: sales@soraluce-america.com

Website: www.soraluce-america.com

If you would like more information about Soraluce machines or technology, or to schedule an editorial interview, please call Rebecca Perez at 815-222-1111 or e-mail rperez@soraluce-america.com

Related