Boon Edam Obtains UL Certifications for Waist-High Turnstile Models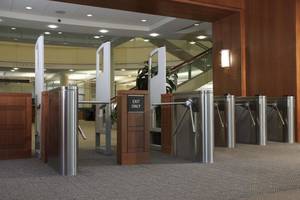 Trilock 3-arm tripod turnstile models now conform with UL 294 and CAN/ULC S319 for Canada
Lillington, N.C., May 22, 2019 – Boon Edam Inc., a global leader in security entrances and architectural revolving doors, announced today that in alignment with their ongoing policy to certify products to North American standards, the Trilock 3-arm tripod turnstile models have been tested and certified to conform with UL (United Laboratories) Standard 294 and CAN/ULC S319 for Canada.
UL Standard 294 and CAN/ULC S319 (the harmonized standard in Canada) are the prevalent industry standards for ensuring the safe operation of access control equipment in the United States and Canada. While all of Boon Edam's products currently conform to CE (the European Union standard of safety and operation), the company continues to invest in UL certification for all door and turnstile products sold in the Americas to align with North American standards and ultimately streamline installation for their customers.
The Trilock 60 and Trilock 75 waist-high turnstiles have been a pair of reliable workhorses since the 1980's when they were built by Tomsed Corporation, a US-based company acquired by Boon Edam in 2005. These 3-arm turnstiles have been installed to control traffic in a wide variety of applications in the Americas including amusement parks, stadiums, public transit and universities. For many years their rugged construction has provided a dependable way to deter tailgating in abusive traffic conditions, both indoors and out. Optional features like color finishes, platforms and wheels, and coin collectors allow organizations to customize the tripod turnstiles to fit any lobby or brand.
"Today's business climate places a premium on risk mitigation and Boon Edam has always emphasized safety around the globe," says Greg Schreiber, Senior Vice President of Sales at Boon Edam Inc. "When our products conform with UL standards, our North American customers can know that a well-established, 3rd-party has rigorously tested them and confirmed they operate safely at any location."
UL was founded in 1894 and today helps companies demonstrate safety and confirm compliance. Services offered by UL include: inspection, advisory services, education and training, testing, auditing and analytics, certification software solutions, and marketing claim verification.
For more information, please visit www.boonedam.us.
For Further Information, Please Contact:
Tracie Thomas
Vice President of Marketing
T 910 814 8239
E tracie.thomas@boonedam.com
For Media Queries, Please Contact
Jayme Cunningham, LRG
Public Relations
T 845 358 1801
E jcunningham@lrgmarketing.com
About Royal Boon Edam
We are proud to be a third generation Dutch family business committed to making people feel welcome and secure through our quality engineered entry solutions. Headquartered in the Netherlands, with a footprint spanning the globe, Royal Boon Edam International is a premium manufacturer of revolving doors, high security doors, turnstiles and Speedlanes. A heritage that exceeds 140 years has resulted in wide expertise in managing the safe transit of people through office buildings, healthcare facilities as well as via public and private spaces. We are truly focused on adding genuine value to our customer's entrances and to a long-term relationship after sales, service and maintenance. We partner, collaborate and become an extension to the customer team to ensure that the project, people and valuables are in safe hands with us. We are your entry experts. Discover more about our latest news at www.boonedam.us/news or follow Boon Edam Inc. on our blog, Facebook, Twitter, and LinkedIn.
More from Controls & Controllers