Boiler Water Level Indication System Receives U.S. Patent for Self-Diagnostic Technology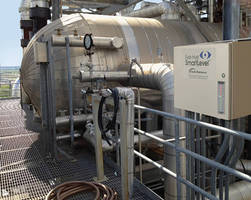 STRONGSVILLE, OH – The Clark-Reliance Corporation has announced that it has been awarded a U.S. Patent for its Eye-Hye® SmartLevel™ system for remote indication of water level for power and process boilers. The patent recognizes the uniqueness of the system's self-diagnostic technology, which intelligently monitors the condition of its sensing probes, and can clearly determine their operational conditions, which are required to maintain system accuracy. When probe cleaning is needed to remove residue and mineral build-up, the system's smart technology notifies the control room before the probe becomes unreliable.



An animated video demonstrating the SmartLevel system can be viewed at http://www.reliancesmartlevel.com.



"We are gratified that the Patent Office has recognized the advancement to the industry that the SmartLevel system represents," said Chris Fadden, one of the patent contributors. "Boiler operators worldwide can benefit from the system's intelligence by providing optimum quality steam for heat rate efficiency."



By reliably indicating that probe cleaning is required, blowdowns to the system can now be performed only when needed, eliminating nuisance inspections and blowdown frequency while reducing personnel exposure to hazardous areas. Probe life and valve life are extended because unnecessary cleaning is avoided. Additionally, after a blowdown the Eye-Hye SmartLevel system has the intelligence to identify probes that did not get fully cleaned and have remained unstable and need to be replaced, further simplifying maintenance while improving system reliability.



The Eye-Hye SmartLevel system is the latest version of the Eye-Hye boiler Level Indication System, in use for over 57 years on thousands of boilers worldwide. The system consists of three major components: a water column with probes located next to the boiler drum; a control unit, and indicator panels. Indicator panels are located in the control room and near the boiler to provide operators an at-a-glance indication of current boiler water level versus its desired level in the drum. Additional indicator panels can be located anywhere in the plant up to a mile away. Water level is a critical operating variable for any boiler, crucial to both safety and boiler efficiency.



The Clark-Reliance Corporation is a world leader in boiler level and control. The company's well-known brands constitute the broadest line of level instrumentation for boilers: Jerguson® liquid level gages and valves, Jacoby-Tarbox® sight flow indicators, Reliance® boiler level controls, Magne-Sonics® level measurement and control products and Clark Steam Specialties. Additionally, Clark-Reliance manufacturers Anderson® Separators, HYCOA transfer valves, filters and strainers, National Filtration Systems® engineered fuel gas filtration / separation systems and HYCOA custom hydraulic power units, hydraulic fitting devices, and metered lubrication system. Equipment from Clark's Oil Filtration Systems product line is used to clean and dry lube oil, transformer oil, and fuel oils.                                   



Clark-Reliance is celebrating over 132 years of boiler knowledge this year, as its roots go back to the Reliance Gauge Column Company founded in 1884.



For more information, call (440) 572-1500 or visit http://www.clark-reliance.com. The company is located at 16633 Foltz Parkway, Strongsville, OH 44149. Email: sales@clark-reliance.com.







More from Material Processing