Boeing Purchases 11 ODVs from Hammonds Technical Services, Inc. for Their 787 Production Floor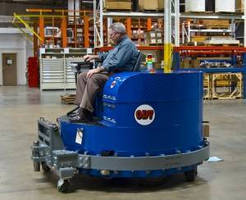 Hammonds Technical Services, Inc. (HTS), a premier innovator and aviation industry leader is proud to announce Boeing's purchase of 11 electric powered Omni Directional Vehicles (ODV) for the 787 production floor of their facilities in Everett and Charleston. Boeing originally purchased diesel powered units from Hammonds in 2007, and they were interested to learn about the low emission electrical units that were recently developed.

The Hammonds G-Series ODV is perfect for the confined space of an airplane hangar or airplane production line. The round ODV Material Handling Tractor rotates on its axis, and can move in any direction from any point on that axis. This unlimited maneuverability along with the proprietary rotary hitch makes handling and moving materials safer and more efficient. When plant space is at a premium, the G-Series enables more materials to be stored in less space. Since the operator never has to back up, he always faces forward making vehicle operation safer. The new Hammonds E-90 ODV electric tractor uses state-of-the-art lithium battery technology that delivers 100,000 pound towing performance for up to 16 hours without charging. The new E-Series is available with towing capacities from 12,000 - 250,000 pounds.

Please call a Hammonds Omni-Directional Vehicle Specialist at (800) 582-4224 to learn more about these amazing vehicles.

SOURCE: Hammonds Technical Services, Inc.

More from Agricultural & Farming Products