Bodycote Re-Routes Complete AFC-Holcroft Furnace Line to Mexico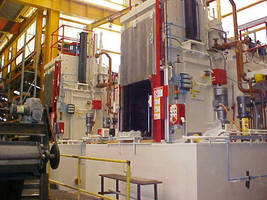 Bodycote Thermal Processing, the largest heat treating company in the world, has installed two new UBQ integral quench batch furnaces and support equipment in its Silao, Mexico plant.

The complete line of AFC-Holcroft equipment will now consist of: (4) UBQ Universal Batch Quench furnaces with top cool, (4) UBT Temper Furnaces, (1) UBTN Nitrogen Temper, (2) UBW Universal Batch Washers , a UBTC double-ended push bar car, 4 scissors lift tables, 10 load tables, and an EZ-9000 endothermic generator. The new equipment is scheduled to be production ready by September 1, 2010.

In 2009, Bodycote finalized an agreement with AFC-Holcroft that will provide a common batch furnace platform for Bodycote facilities in 27 countries around the world. The objective of the agreement is to allow for consistency throughout the multitude of commercial heat treatment plants that Bodycote operates globally, while minimizing investment costs for new equipment.

Bodycote is the world's largest commercial heat treating company with over 170 plants operating in 27 countries.

AFC-Holcroft has more than 90 years of thermal processing experience. The company manufactures turn-key heat treating systems for applications including commercial heat treating, bearings, automotive, aerospace, military, aluminum heat treatment, gear manufacturing, fastener manufacturing, and alternative energy industries.

AFC-Holcroft is one of the world's largest manufacturers of heat treating furnaces. The company has a global reach, with organizations in the United States, China, Argentina, Australia, Brazil, India, Korea, Mexico, Poland, Russia, Spain, and Turkey, including manufacturing means in many of these countries.

For more information on AFC-Holcroft, contact William Disler at +248-624-8191 or wdisler@afc-holcroft.com .

More from Thermal & Heating Equipment