Material Handling and Storage Bags
Body Bag minimizes spread of bacteria and virus.
Press Release Summary: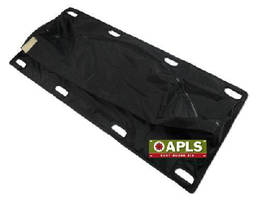 Disposable and absorbent, APLS® Body Guard Bio protects service providers from bacteria and viruses. Bag features external nylon shell, watertight zipper, thermal seals, and 8 handles for transport. Absorbent core with anti-microbial agent controls offensive odors, while finished edges create leak-proof inner chamber that contains up to 4.5 L of contaminated and potentially contagious blood and bodily fluids. Capable of supporting up to 425 lb, bag includes pocket for patient documents.
---
Original Press Release:

New, State-Of-The-Art Body Bag Minimizes the Spread of Bacteria and Virus



LA VERNE, Calif.,  -- Paper Pak Industries, a manufacturer of innovative emergency readiness products, has developed APLS(®) Body Guard Bio, a disposable, highly absorbent body bag that minimizes the spread of bacteria and virus while protecting service providers and the deceased.



APLS Body Guard Bio features a rugged, external nylon shell, watertight zipper, thermal seals and finished edges that create a leak-proof inner chamber that contains contaminated and potentially contagious blood and bodily fluids.   



Paper Pak Industries Chief Executive Officer and President Ron Jensen noted, "After years of manufacturing a wide range of emergency readiness products for militaries and medical facilities around the world, our team of experts developed APLS Body Guard Bio in response to the growing threat of bacteria and virus. This state-of-the-art body bag protects service providers from bacteria and virus that are spread by handling deceased individuals. In addition to a leak-proof inner chamber that minimizes the spread of bacteria and virus, APLS Body Guard Bio features a highly absorbent core with an anti-microbial that serves to contain offensive odors."



Extreme environmental conditions do not affect the APLS Body Guard Bio bag's ability to minimize the spread of bacteria and virus. The bag's rugged external nylon shell can be decontaminated several times with bleach and other usual cleaning agents without losing the bag's protective properties. Available in a range of sizes and colors, APLS Body Guard Bio is designed to work independently or with a stretcher for staging, storing, and transporting contaminated remains.



APLS Body Guard Bio Features, Benefits and Specifications:



Leak-proof inner chamber and watertight zipper contain blood and bodily fluids

Absorbent core with anti-microbial agent controls offensive odors

Rugged nylon shell and watertight zipper

Leak-proof backing and sealed edges

Contains up to 4.5 liters of blood and bodily fluid

Eight handles allow for carrying and easy transport

Arced zipper path provides convenient access

Pocket secures patient documents

Supports 375 - 425 lbs. (170.1- 192.78 kg), wet or dry

Finished Product Size: 33" x 78" (83.82 cm x 198.12 cm)

Target Absorbency (H(2)O): 4,250 - 4,750 grams (target = 4,500 grams, or 4.5 liters)

Pad Thickness: 0.075" (0.19 cm)

Pad Weight: 4.26 lbs. (1.94 kg)



About Paper Pak Industries

Founded in 1960, Paper Pak Industries is a leading North America manufacturer dedicated solely to the design and production of absorbent mediums for the medical and food industries.



With state-of-the-art manufacturing facilities on both coasts of the United States, PPI offers a range of standard and value-added absorbent products to the leading medical facilities, first responders, food processors, supermarkets and packaging manufacturers. PPI is the leader in active packaging technology, offering a range of revolutionary active absorbent products that promote emergency readiness and food safety. For more information, please visit www.paperpakapls.com. 



CONTACT: Paper Pak Industries, Ron Jensen, Chief Executive Officer and President, 1941 White Avenue, La Verne, CA 91750, (909) 392-1776

More from Materials