Bobcat Company Names 2016 Create & Conserve Contest Winner, Transforms Property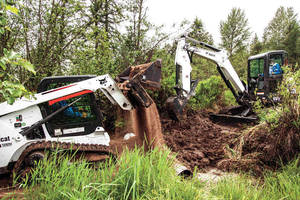 WEST FARGO, N.D. — Glenn and Judy Stevens, of Unity, Maine, experienced the ultimate land transformation after they were named the 2016 Create Conserve™ Habitat Event contest winners.



Bobcat Company, along with partners Rick and Julie Kreuter — co-hosts of the hit television show "Beyond the Hunt" on the Outdoor Channel — selected Glenn and Judy Stevens as this year's winners and visited their property to help re-establish native plant species, encourage healthy new growth and develop the land for a sustainable future.



In only four days, the Stevenses' property was transformed with the help of Bobcat® machines and attachments, a team of operators from Bobcat Company, and Rick and Julie Kreuter. Three compact track loaders — including a T595 — a skid-steer loader, a compact excavator, an MT85 mini track loader, four utility vehicles, a telescopic tool carrier, as well as a 25 different attachments, were operated to create a 43,000-square-foot pond, establish a mile-and-a-half of access trails, install an erosion control fence, create conservation plots and construct a fire pit for Glenn and Judy to enjoy. The conservation plot and pond portions of the project will provide another food and water source for wildlife, including moose, black bears, deer, foxes, lynx, hares and bobcats.



"The property has been in my family since the 1960s so it was important to continue this legacy by taking proper care of the land," said Glenn Stevens. "My wife and I were shocked to find out that we won the contest. We are so thankful and amazed at all the work that has been done to our property."



Chris Girodat, marketing manager for Bobcat Company, said the reason the Stevens family was chosen as this year's winner was the story behind the property.



"The property is not just a hunting establishment; it is a place dedicated to wildlife viewing and a way for Glenn Stevens and his family to unplug for a while," said Girodat. "It is an ideal conservation location, and we were able to come in and ensure it could be enjoyed by the Stevenses, their children and grandchildren for years to come."



The Bobcat Create & Conserve Habitat Event contest was created in 2013. Entrants are asked to describe their ideal land transformation project that supports conservation, and provide images of their property showing how Bobcat compact equipment can help them with their conservation efforts. Bobcat Company selects the winning entry and — with help from Rick and Julie Kreuter, and other partnering sponsors — supplies equipment and other prizes, and manpower to complete the project.



Partnering sponsors include:



• Arrow Seed

• Burris®

• Browning®

• Hornady®

• Mossy Oak®

• Redneck blinds

• Stealth Cam®

• Walker's®

• Yeti®



Visit Bobcat.com/landing/createandconserve to learn more about the Create & Conserve event. To see previous Beyond the Hunt episodes and events go to the My Outdoor TV app (myoutdoortv.com).



ABOUT BOBCAT COMPANY

Bobcat Company, headquartered in West Fargo, N.D., is a worldwide leader in the manufacturing and distribution of compact equipment. Bobcat compact equipment includes skid-steer, all-wheel steer and compact track loaders; compact excavators; mini-track loaders; VersaHANDLER® telescopic tool carriers; utility vehicles and Toolcat™ utility work machines. Bobcat is a global brand with more than 550 dealer locations in North America and the leader in compact equipment — the industry's original innovator, beginning more than 50 years ago with the first compact machine and predecessor to the skid-steer loader. Bobcat Company is a Doosan Company. For more information on Bobcat products, visit Bobcat.com.





More from Electrical Equipment & Systems