Boart Longyear Introduces LF(TM)160 Drill Rig and FREEDOM(TM) Loader offering safe and totally hands-free rod handling capability.
Press Release Summary: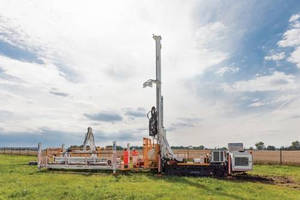 With depth capacity of up to 1,800 meters of NQ™, LF™160 Drill Rig when paired with the FL262 FREEDOM™ Loader helps in sophisticated surface drilling exploration. Requiring no intervention from a drill assistant, drill rigs are CE certified according to the latest EN16228 safety standards. Remote control panel available in the Loader enables operation from a safe distance. With a choice of Tier 3 or 4 final engine, Loaders can cycle 6 meter rods in the same amount of time as a manual cycle.
---
Original Press Release:
Boart Longyear's LF(TM)160 Drill Rig and FL262 FREEDOM(TM) Loader to Make Debut during MINExpo INTERNATIONAL
Boart Longyear (www.BoartLongyear.com), the world's leading provider of drilling services, equipment and performance tooling, will introduce its LF™160 Drill Rig and FREEDOM™ Loader during MINExpo INTERNATIONAL 2016 in Las Vegas, Nevada, from September 26 to 28.

Created with customers' needs in mind, the LF™160 incorporates proven technology from Boart Longyear's most popular surface coring drill rigs. When paired with the FL262 FREEDOM™ Loader, it is ideal for contractors who want to target sophisticated surface drilling exploration contracts that stipulate some of the highest safety standards, without compromising on productivity.

"The new FREEDOM™ series is aptly named," said Monika Portman, director of product management and marketing for Boart Longyear. "Because drillers' safety and productivity are front-of-mind in the design, the combination of the LF™160 Drill Rig and the LF262 FREEDOM™ Loader provides our customers with important freedoms in drilling, movement and bidding.

" With totally hands-free rod handling, the combined rig and loader require no intervention from the driller's assistant to trip in and align the rods or connect to the top drive head – thus offering greater freedom to drill by reducing the risk of hand and back injuries while handling rods.

Freedom of movement comes as a result of the FREEDOM™ Loader's remote control panel, which allows drillers to move to and work from a safer location and away from the risks of moving rods.

And because the LF™160 is CE certified according to the latest EN16228 safety standards, contractors can be assured of the freedom to bid on contracts that stipulate these exacting requirements.

The FREEDOM™ Loader can also cycle 6 meter rods in the same amount of time as a manual cycle, meaning enhanced safety is achieved without compromising productivity.

Other features of the rig and loader include a forward-tilting head design that simplifies the rod handling process and reduces the need for operator intervention and maintenance; a clamping device that maintains constant pressure at any hole depth, reducing the risk of dropped rods; a wireline winch located in the front of the mast, inside the rotation barrier, for improved visibility; depth capacity of up to 1,800 meters of NQ™, accommodating the majority of diamond coring needs; the choice of a Tier 3 or 4 final engine, to comply with emissions requirements in every country; and either a crawler or truck-mount configuration.

Visit Boart Longyear's MINExpo exhibit at Booth 2603 in the North Hall of the Las Vegas Convention Center. Product experts will be available at the display, which will include not only the LF™160 Drill Rig and FL262 FREEDOM™ Loader but a broad range of underground, surface, sonic and production drill rigs; performance tooling; and the first product in the company's instrumentation line, TruCore™.

For more information on the LF160 drill rig and FL262 FREEDOM Loader, visit www.boartlongyear.com/LF160SC.

About Boart Longyear

Boart Longyear is the world's leading provider of drilling services, drilling equipment and performance tooling for mining and drilling companies globally. It also has a substantial presence in aftermarket parts and service, energy, mine de-watering, oil sands exploration and production drilling. The Global Drilling Services division operates in over 30 countries for a diverse mining customer base spanning a wide range of commodities, including copper, gold, nickel, zinc, uranium, and other metals and minerals. The Global Products division designs, manufactures and sells drilling equipment, performance tooling, and aftermarket parts and services to customers in over 100 countries.

Boart Longyear is headquartered in Salt Lake City, Utah, USA, and listed on the Australian Securities Exchange in Sydney, Australia.
More information about Boart Longyear can be found at www.boartlongyear.com.
To get Boart Longyear news direct, visit www.boartlongyear.com/feed.

Contact:

Monika Portman
Director of Product Management, Marketing, and Corporate Communications
Phone: +1 801-952-8451
Email: monika.portman@boartlongyear.com

SOURCE Boart Longyear Web Site: http://www.boartlongyear.com
More from Electrical Equipment & Systems