Board-to-Board Connectors feature 0.4 mm pitch.
Press Release Summary: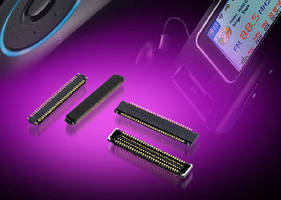 Available in 10- to 60-position models, 5802 Series has 0.8 mm stacking height and 3.2 mm width, including tails. Units feature 0.3 A contact current, 50 V contact voltage, and operating temperature of -40 to 85°C. Area beneath connectors is fully insulated, and contacts employ twin rib structure, which ensures they are wiped clean from contaminants during every mating cycle. Connectors are suited for cell phones, MP3 players, digital cameras, and PDAs.
---
Original Press Release:

AVX Develops the Industry's Smallest 0.4mm Pitch Board-to-Board Connector



Board-to-board connector features 0.8mm stacking height and 3.2mm width...

MYRTLE BEACH S.C. (April 28, 2009) -- AVX Corporation, a leading manufacturer of
advanced passive components and connectors, has developed the industry's smallest 0.4mm
pitch board-to-board connector series. Designated the 5802 Series, the low-profile connectors feature an ultra-slim form factor of 0.8mm stacking height and 3.2mm width, including tails.

The 10-to 60-position connector family has an innovative design that does not compromise reliability or performance.

The area beneath the 5802 Series connector is fully insulated, allowing designers to run tracks beneath the device for a more flexible board layout. To ensure low insertion force while maintaining high retention and separation force, the connector contact employs a twin rib structure. The structure also ensures that contacts are wiped clean from contaminants, such as dust and flux, during every mating cycle.

"Our 5802 low-profile board-to-board connector series is ideal for portable devices due
to its unique design that combines ultra-small size with high-reliability," said Mark Jarman, KEC Product Manager at AVX. "The space-saving design allows engineers to be flexible in their design without sacrificing performance or ruggedness that end consumers demand."

Providing an audible and tactile "click" mating, the plugs are shaped by insert moldings and enclosed metal fittings on the receptacles to improve breaking strength against any drop impact. A nickel barrier and solder-on receptacle contacts prevent solder wicking, while pinched-type dual contacts further enhance contact reliability.

Other specifications include 0.3A rated contact current, 50 V rated contact voltage, gold plated beryllium copper contacts, UL94V-0 heat-resistant insulator material, and -40 to 85degC operating temperature.

The AVX 5802 Series connectors are ideal for use as a low profile and space efficient
board-to-board connector that is required for internal wiring of mobile devices, such as cell phones, MP3 players, digital still and video cameras, PDAs, and game players. The connectors are also suitable for connecting LCDs in camera modules, CMOS/CCD image pickup devices, and other space-sensitive board applications

Pricing typically starts at $0.03 per position in low volumes with a lead time of eight to 12 weeks.

For more information, contact AVX at 801 17th Avenue South, Myrtle Beach, S.C.
29578; by calling 843-448-9411, by fax at 843-444-2864 or on the Web at www.avx.com.

About AVX

AVX Corporation is a leading international supplier of electronic passive components and interconnect solutions with 24 manufacturing and customer support facilities in 15 countries around the world. AVX offers a broad range of devices including capacitors, resistors, filters, timing and circuit protection devices and connectors. The company is publicly traded on the New York Stock Exchange (NYSE:AVX).

More from Test & Measurement