BNC Connectors mount to PCBs without adhesives.
Press Release Summary: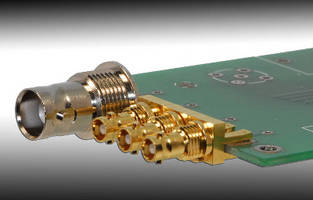 Manufactured with small protrusions inside PCB slots, 75 Ω E-Snap™ Series BNC Connectors snap and lock securely into solder-pasted holes when they are mounted to PC board. High-density edgeboard RF interconnects, offered in male and female versions, have straight-through contact design and gold-plated contacts. Rated for use in 3G applications, connectors feature frequency range of 0–4 GHz and are suitable for employment in broadcast and telecom applications.
---
Original Press Release:
Bomar's New High Density BNC E-Snap(TM) Connectors Target Broadcast and Telecom Applications
Small Form Factor Edgeboard RF Interconnects Securely Mount to PC Boards without Adhesives

Ledgewood, NJ  ...Bomar Interconnect Products, Inc., a premier manufacturer and designer of quality connectors and accessories for RF, video and broadcast transmission, announced the addition of high density BNC connectors to their E-Snap™ Series of edgeboard RF connectors. Bomar's new 75-Ohm high density BNC interconnects are 51% smaller than traditional BNC devices, permitting four times the density, and 40% smaller than the DIN 1.0/2.3.  Their small form factor allows engineers to design more connections into less space while maintaining the stringent performance and reliability characteristics required by the broadcast industry.  Moreover, as they feature Bomar's proprietary E-Snap technology, high density BNCs are uniquely manufactured with small protrusions inside their PCB slots, allowing connectors to "snap" and lock securely into solder-pasted holes when they are mounted to the PC board.  Since they are held securely in place prior to reflow soldering, strain on the solder joint is significantly reduced, which facilitates the industry's most durable mount to the PC board.  E-Snap technology notably enables EOEMs to maximize throughput while reducing the time and expenses related to applying adhesives.  Additionally, end launch mounting allows for optimal return loss capabilities and VSWR.

Rated for use in 3G applications, Bomar's rugged HDBNC E-Snap interconnects are suitable for employment in an array of high bandwidth connections in broadcast and digital video-HDTV applications. They are also appropriate for connections in video network routing and switching, and in any application in which standard BNCs connectors may be used. 

The high density BNC E-Snaps, along with Bomar's entire E-Snap Series, meet or exceed all industry mechanical, electrical and environmental standards. To further ensure the utmost in reliability, E-Snap connectors boast a straight-through contact design and gold-plated contacts.   The high density BNCs fit traditional miniature broadcast cables and boast a frequency range of 0-4 GHZ.  Parts are supplied in male or female versions and, while gold is the standard, they are offered in a variety of standard- and custom-plating alternatives.  For more information regarding Bomar's 75-Ohm high density BNC E-Snap edgeboard RF connectors, or to learn about the full E-Snap Series, visit http://www.bomarinterconnect.com/ESnappage2.htm.

Distributor pricing for Bomar's high definition BNC E-Snap edgeboard RF connectors starts at $4.54 each in quantities of 1,000.  Delivery is from stock to 10 weeks.  Samples are available.

About Bomar
Founded in 1990 Bomar Interconnect Products, Inc. (www.bomarinterconnect.com) is a premier global manufacturer and designer of quality connectors and accessories for RF, video, and broadcast transmission.  The Company's significant array of standard and miniature RF connectors and modular components includes full lines of mini, twin and dual BNC, MMCX, N, RCA, SMA, SMB/SMC, TNC, SMP and F connectors.  Also offered is the Specialty Broadcast Connector (SBC and HBC) Series, together with such renowned proprietary lines as the panel-grounded X-2™ dual BNC Series, and V-Bite™ Series of edgeboard connectors.  Moreover, Bomar provides extensive custom engineering services.  Headquartered in Ledgewood, NJ, the Company markets its products through a worldwide network of representatives and stocking distributors.  To locate a distributor, visit http://bomarinterconnect.com/Distributor.html
More from Food Processing & Preparation