BMT-200TS Balancing Machine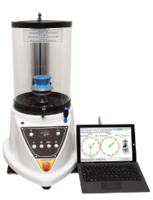 Rush Machinery will showcase the BMT-200TS Balancing Machine at the 2022 International Manufacturing Technology Show (IMTS), being held at Chicago's McCormick Place September 12–17. Rush Machinery can be found in Booth 237233.
The BMT-200TS Balancing Machine is designed for the balancing of mounted grinding wheels, wheel packs, and cutting tools. The features of this compact, easy to use benchtop unit include self-calibration, automatic clamping and positioning, a clear safety cover, and a graphical user interface running on included laptop PC. There is also an on-board memory with 240 data sets (expandable as an option).
Balancing methods for the BMT-200TS are: GRAMM with set screws at fixed arbor positions axially or radially; Split angle with balancing rings; Fixed position with set screws; Drilling; and Milling.
Rush Machinery provides top quality products and service that help people grind better. We build and service an extensive line of production and support machines for industries that use diamond and CBN wheels and work with carbide and other hard materials.
Our machines are for: Truing and dressing Diamond/CBN wheels; Cutting off carbide/HSS rods and tools; Cutting, prepointing, and chamfering carbide/HSS rods; Chamfering carbide/HSS rods; Balancing wheels and tools; Grinding PCD tools; Filtering grinding oil and Sharpening drills and tools. Our proven commitment to quality, service and innovation has made us an industry leader since 1983.
For Further Information, Please Contact:
Doug Lewis
Sales Manager
Rush Machinery, Inc.
4761 Route 364
Rushville, NY 14544
Tel: +1-800-929-3070 / +1-585-554-3070
Fax: 585-554-4077
Email: [email protected]
Web: www.rushmachinery.com