BMS Interface increases network bandwidth.
Press Release Summary: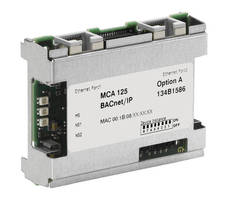 Using BACnet/IP protocol, VLT® BACnet/IP MCA 125 connects VLT® HVAC Drive FC 102 to building management systems (BMSs). This reduces network components and increases network bandwidth to BMS controller. Along with plug-and-play functionality, features include B-AAC (BACnet Advanced Application Controller) profile compliance, subscribe COV, automated alarm and event management, and trend object functionality. Embedded 2-port managed ethernet switch allows use of line, star, or ring topology.
---
Original Press Release:

BACnet/IP: New Option Card for Cost-Effective Networking



The VLT® BACnet/IP MCA 125 is an interface connecting the VLT® HVAC Drive FC 102 to building management systems using the BACnet/IP protocol. This option helps to reduce the number of network components and effectively increases network bandwidth to the BMS controller.



The VLT® BACnet/IP MCA 125 option is a plug-and-play solution that allows connection of the VLT® HVAC Drive to building management systems using the BACnet/IP protocol.



With the VLT®BACnet/ IP MCA 125 option, Danfoss Drives elevates the performance of a BACnet-enabled AC drive to unseen heights, by complying with the B-AAC (BACnet Advanced Application Controller)  profile.   Some of the features of the VLT® BACnet/IP MCA 125 include subscribe COV which reduces polling for data from the BMS, alarm and event management that can automatically send alarms without polling, and trend object which allows the user to trend inside the drive and not tie up the  BMS.  All of these features increase the network bandwidth through reduced polling and data transfer, allowing for higher numbers of network devices and reducing irrelevant data communication on the network.



The module also incorporates battery-free clock synchronization with the BMS eliminating periodic  battery maintenance and disposal.   The VLT® BACnet/IP MCA 125 can also send alarms or detailed reports of triggered conditions.



Ethernet ports

The embedded two port managed switch of the VLT® BACnet/IP MCA 125 allows the use of line, star, or ring topology and often eliminates the need for an external switch.  This approach is becoming more attractive because it reduces the number of network components, hardware and installation costs, and reduces points of communication failure.



Media contact:

Nicole Finley, Marketing Communications Specialist, Danfoss Drives

Tel: 815-639-8871;  Email: nicole.finley@danfoss.com



Related links:

http://drives.danfoss.us/products/vlt/options/fieldbus-options/



Danfoss Drives is a world leader in variable speed control of electric motors, and a member of Danfoss Group. We aim to prove to you that a better tomorrow is driven by drives. It is as simple and as ambitious as that. Since 1968, we have been pioneers in the drives business. In 2014, Vacon and Danfoss merged, forming one of the largest companies in the industry. Together we continue to be driven by a passion to develop, manufacture and sell the most versatile AC drives in the world. We can adapt to any motor technology and supply products in the power range from 0.18 kW to 5.3 MW. Read more at www.danfossdrives.com.



If you would rather not receive future communications from Danfoss, let us know by clicking here.

Danfoss, 11655 Crossroads Circle, Baltimore, MD 21220-2863 United States

More from Materials