Blue Nitrile Foam Coated Gloves feature washable design.
Press Release Summary: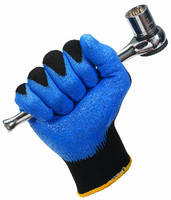 Jackson Safety G40 Blue Nitrile Gloves will not shred or tear and offer optimized oil and industrial grease grip. Gloves are washable and maintain EN388 ratings through at least 5 wash cycles. Featuring EN1149-2 Vertical Resistance rating, silicone-free gloves are suitable for automotive and aerospace assembly as well as metal, glass, and wood handling applications. Heat transfer stamp enables user to see ratings even after glove use.
---
Original Press Release:

Kimberly-Clark Professional Introduces New & Improved Jackson Safety G40 Blue Nitrile Foam Coated Gloves



Replaces G40 Purple Nitrile Gloves

ROSWELL, Ga. - The Jackson Safety G40 Nitrile Foam Coated Gloves from Kimberly-Clark Professional have been improved to offer a host of additional benefits to industrial workers, including being washable and silicone-free.

"These very successful gloves now offer many enhancements," said Veronica Savage, category manager for Industrial Gloves, Kimberly-Clark Professional. "End users have even told us they prefer our new G40 Nitrile Gloves two-to-one over its predecessor."

One visible change to the Jackson Safety G40 Nitrile Gloves is the color - the gloves are now blue instead of purple. With this change comes a new level of performance and quality that includes:


Better oil and industrial grease grip than the previous G40 Nitrile Gloves.


The gloves are now washable and maintain EN388 ratings through at least five wash cycles.


Eco-friendly packaging with no separate insert, no printed bags and less waste.


Improved heat transfer stamp, so you can see the ratings even after glove use.
There also is no shredding or tearing.


Jackson Safety G40 Blue Nitrile Gloves are rated EN1149-2 Vertical Resistance.

Jackson Safety G40 Blue Nitrile Gloves are silicone-free and ideal for automotive and aerospace assembly, metal, glass and wood handling applications.

For more information about the new Jackson Safety G40 Coated Gloves, visit www.kc-safety.com or call 1-888-346-GOKC (4652).

About Kimberly-Clark Professional

Kimberly-Clark Professional is dedicated to providing essential solutions for a healthier, safer and more productive workplace. These include a unique portfolio of innovative, cost-effective and sustainable offerings for office buildings and lodging properties, healthcare facilities, manufacturing environments, laboratories and cleanrooms, educational facilities, food preparation and processing operations, and home professionals. Kimberly-Clark Professional offers a comprehensive array of hand hygiene and contamination control solutions to break the germ transmission chain and help create a healthier workplace as well as wiping and safety solutions that minimize risk and drive productivity. Its trusted global brands include Kleenex, Scott, Jackson Safety, Wypall and Kimtech. Located in Roswell, Ga., Kimberly-Clark Professional is one of Kimberly-Clark Corporation's four business sectors. For more information, visit www.kcprofessional.com.

About Kimberly-Clark

Kimberly-Clark and its well-known global brands are an indispensable part of life for people in more than 150 countries. Every day, 1.3 billion people - nearly a quarter of the world's population - trust K-C brands and the solutions they provide to enhance their health, hygiene and well-being. With brands such as Kleenex, Scott, Huggies, Pull-Ups, Kotex and Depend, Kimberly-Clark holds the No. 1 or No. 2 share positions in more than 80 countries.

COMPANY CONTACT:

Kim Henderson, Kimberly-Clark Corp.

770-587-8331 / kim.henderson@kcc.com

More from Optics & Photonics