Blue Laser has power control option.
Press Release Summary: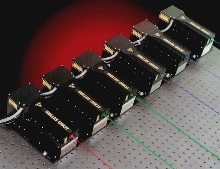 APC automatic power control lets company's diode-pumped solid-state (DPSS) laser systems be switched between ACC(automatic current control) and APC via RS232. In APC mode, system will maintain precise level of output over long periods of time. This is suitable for measurement and scanning applications where long-term stability and repeatability is critical. It also increases system life by optimizing laser current for specific output power.
---
Original Press Release:

Automatic Power Control Option for 58-Series Blue DPSS Lasers


Carlsbad, CA - Melles Griot is now offering automatic power control (APC) as an option for all single- and dual-beam, blue 58-series, 457 nm, diode- pumped solid-state (DPSS) laser systems. With this option, the laser systems can be switched between ACC (automatic current control) and APC modes through the RS-232 control software provided with the equipment. In APC mode, the system will maintain a precise level of output power over long periods of time. This option is particularly attractive for critical measurement and scanning applications where long term stability and repeatability is critical. It also increases overall system life by optimizing laser current for a specific output power. Output power or laser current can be set through the software.

The APC option requires a new power supply, the 58 PSM 295, as well as physical modifications to the laser head. Systems in the field that operate under current control may be upgraded, but this will require the units to be returned to the factory.

Melles Griot manufactures a complete line of high-power diode-pumped solid- state lasers with output power up to 400 mW at 457 nm (blue), up to 3 W at 532 nm (green), and up to 5 W at 1064 nm (near infrared) power. Melles Griot is a leading global supplier of photonics products including optics, lasers, motion-control systems for the telecommunications industry, laser measurement instrumentation, and opto-mechanical hardware. The company has manufacturing and distribution activity in 41 countries world- wide and is a Barloworld Leading Brands.

For more information, contact: www.mellesgriot.com