Blown Film Extruder features reverse air cooling.
Press Release Summary: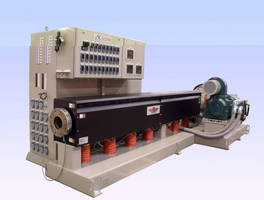 Backdraft(TM) Extruder, suitable for blown film and plastic processing, has design that removes heat and air currents from extrusion area to optimize bubble stability and energy efficiency. Individual dampers are connected to common air plenum in machine base, which is in turn connected to single exhaust fan. When closed, dampers prevent energy loss through convection cooling. Air is drawn through heater's cooling fins when dampers open, and through exhaust system to allow reverse cooling.
---
Original Press Release:

American Kuhne, Inc. Introduces the Backdraft(TM) Extruder



Ashaway RI - American Kuhne is pleased to announce an exciting new extruder technology. The Backdraft(TM) extruder is designed with a reverse air cooling system - ideal for blown film processing as well as benefitting other plastic processing applications.

The Backdraft(TM) extruder design removes heat and air currents from the extrusion area for optimum bubble stability, while simultaneously improving energy efficiency. Individual dampers for each zone provide superior process control and operational simplicity. When the dampers are closed, they prevent the "chimney effect" present in most air-cooled machines that allows energy losses through convection cooling.

The dampers are connected to a common air plenum integrated into the machine base, which is in turn connected to a single exhaust fan, either connected to the base or remote mounted. The single central exhaust blower removes the need for more traditional individual blowers on each zone. When a damper opens, air is drawn down through the heater's cooling fins and through the exhaust system. This reverse cooling arrangement eliminates the need for exhaust hoods, and eliminates any potentially damaging air currents near the bubble area.

American Kuhne has a full line of extruder options for Blown Film that include:

Convertible Extruders

Convertible extruders are engineered for extreme flexibility. This unique machine features the ability to quickly and easily change from smooth feed to grooved feed for "swing line" blown film applications.

Gearless Extruders

Extruders can be supplied with an AC motor and gearbox, or a gearless torque motor that eliminates the gearbox, gear oil and gear oil disposal. Gearless is a compact design that saves energy, is easier to maintain, and operates at a low noise level. Additional energy efficient options are available.

Ultra Series Low Boy Extruders

These low centerline extruders include Steward Barrier screws for high output and low melt temperature, heavy duty double reduction gearbox (gearless is optional), AC motors, deep finned cast barrel heaters, smooth or grooved feed sections, and available with Backdraft cooling. Control panels can be provided mounted on the extruder base or remote mounted.

About American Kuhne, Inc.

American Kuhne, Inc. is a leading worldwide supplier of standard and customized single screw extruders, feed screws, extrusion systems and specialized turnkey systems for medical applications. Extruder sizes range from 1/2" (12.7mm) through 12-inch (305mm). They are designed and built in Ashaway, RI. Turnkey pipe, tubing and profile systems are also developed, tested and manufactured within their plant. In addition, the company maintains two medical tubing lab lines capable of multi-lumen and taper tube extrusions available for customer trials in their facility in Ashaway RI and their European facility at Kuhne GmbH in St. Augustin Germany.

More from Machinery & Machining Tools