Blow-Through Feeder/Airlock optimizes conveyed throughput.
Press Release Summary: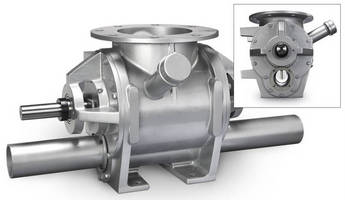 BT Series ensure optimal bulk density and throughput of hard-to-convey materials, such as fine powders and flakes, in high-pressure pneumatic conveying applications. With integrated vent port on return side of valve housing that automatically vents air leakage, design decreases excess aeration of material during conveying. Eight-vane rotary valve design also reduces air leakage and maximizes flow path of air through rotor pocket to improve material pocket release.
---
Original Press Release:

Blow-Through Feeder/Airlock Design Ensures Optimal Throughput of Hard-to-Convey Materials in Pneumatic Conveying Applications



CALEDONIA, Ontario, Canada – ACS Valves. The BT Series Blow-Through Feeder/Airlock from ACS Valves is designed to ensure optimal bulk density and throughput of hard-to-convey materials such as fine powders and flakes that, in high-pressure pneumatic conveying applications, can easily over-aerate and reduce material feed efficiency. The BT Series Feeder/Airlock design decreases excess aeration of the material during conveying with an integrated vent port on the return side of the valve housing that automatically vents air leakage. The BT Series 8-vane rotary valve design significantly reduces air leakage and maximizes the flow path of air through the rotor pocket; improving material pocket release. The minimal air leakage, and resulting low, effective pressure drop of the BT Series optimizes material flow density, improves material conveying efficiency, and reduces total compressed air consumption.



The ACS Valves BT Series housings are cast in North America to ensure superior strength in the composition and solidification of the housing's metallurgy. The strength of the BT Series valve housing provides optimal service in high temperature applications, and applications requiring pressure differentials up to 20 PSIG. The BT Series housings are also CNC-machined to precise tolerances to ensure extended duty cycles by eliminating axial shaft movement, seal leakage, and shortened bearing life. The ACS Valves BT Series further extends maintenance cycles with an outboard bearing design that removes the bearings from the path of damaging and contaminating materials. Additional process efficiency is provided by an available ACS variable frequency drive to modulate the feeder drive speed and reduce power requirements based on the fluctuating performance needs of the system.



ACS Valves BT Series Blow-Through Feeder/Airlock housings are available in cast iron, or, 304 or 316 stainless steel; in either 8-inch or 10-inch, round flange sizes. The BT Series is available with a hard chrome housing interior, and with adjustable rotor tips.



ACS Valves

611 Argyle Street, North

Caledonia, Ontario, Canada N3W 1M1

P: 800.655.3447

W: acsvalves.com



Media Contact:

Tim Wiersma

FGI

616.742.2476

timw@freemangroupinc.com



Corporate Contact:

Megan Thompson

ACS Valves

Related