Blow Molding Machine produces HDPE milk bottles.
Press Release Summary: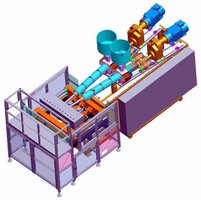 Capable of producing 3-layer extended-shelf-life (ESL) bottles, UMR2000-3L 12-parison machine combines reciprocating-screw blow molding technology with sterile blow air and enclosed, pressurized clamp area. It produces 5,400 bottles/hr, with 8 sec cycle time, and has 90 ton clamp force. Laminar airflow system delivers dry, HEPA-filtered air to clamp interior. While see-through guarding completely encloses UMR clamp area, B&R control manages all machines functions.
---
Original Press Release:

Uniloy Milacron Cuts Cost for Extended-Shelf-Life Milk Bottles with First Multi-Layer Reciprocating Blow Molding Machine



Uniloy Milacron NPE stand No. 1702 South Hall

Machine produces HDPE milk bottles for ESL packaging 10-20% faster than shuttle or wheel machines, with 10-25% less energy

May 2006 - Uniloy Milacron is meeting consumer and dairy producer preference for HDPE milk bottles in countries with limited refrigeration infrastructure by introducing the first reciprocating blow molding machine capable of producing three-layer extended-shelf-life (ESL) bottles. It surpasses wheel and shuttle machines with 10-20% higher output in a smaller footprint, with 10-25% less energy use. The first UMR2000-3L will be demonstrated at NPE making Euro-standard one-liter, non-handled bottles using resin supplied by INEOS. The 12-parison machine can produce 5400 bottles per hour, with an 8 second cycle time. Weighing 28-32 grams each, the bottles will have a 43 mm neck finish. In actual production, a foil seal and screw cap would complete the package to permit shipping and storage under non-refrigerated conditions.

Uniloy originated the lightweight, handled, plastic milk jug in 1963, and its reciprocating blow molding machine has since become the "industry standard," with more than 3800 in use worldwide. "It's simply the best technology for producing a lightweight three layer HDPE container at the lowest cost," said Richard Smith, Uniloy's director of sales & marketing, reciprocating technologies. The reciprocating screw design enables the fastest parison delivery with superior control. Primary advantages over wheel and shuttle blow molding machines include lower energy costs, shorter dry cycle time, lower melt temperature and higher clamp force (90 tons). Reciprocating machines eliminate the need for a knife to cut the parison and also reduce parison hang time, making melt strength less important.

Uniloy's new UMR2000-3L is designed for high-volume "through the wall" bottle production to match filler output. It combines Uniloy's proven reciprocating-screw blow molding technology with sterile blow air and enclosed, pressurized clamp area. This enables containers to be produced and sealed in a controlled environment with bacteria-free blow air. Uniloy has done extensive testing on various containers produced on this system to verify that the containers are bacteria-free. The stainless steel air system uses steam purge and HEPA filters to deliver sterile blow air. A proprietary mechanical sealing method in the blowing cycle seals the containers, entrapping sterile air inside the bottles until filling, while a patented mechanical volume evacuation system eliminates the need for a typical vacuum system.

New see-through guarding completely encloses the UMR clamp area. A laminar airflow system is used to deliver dry, HEPA-filtered air to the clamp interior, maintaining positive pressure against outside air infiltration. Flexible skirt guarding at the bottom of the clamp seals on the floor and adjusts to any changes in floor pitch or level.

The NPE show machine features dual 65mm extruders with 28:1 BARR Variable Barrier Energy Transfer screws for optimum mixing and output at low temperature. Each extruder can process 180 kg of HDPE resin per hour (400 lb/hr). The three layer extrusion head produces a parison with inner and outer layers of white virgin material, and a center layer of black recycled trim material. The layers percentages are 20% inner and 40% each for outside and center. The black center layer is a UV barrier to protect riboflavin and other nutritional components of dairy products.

Molds are fully supported in the clamp, ensuring consistent alignment and long life. Unique ROTAC toggle clamping delivers highest-in-class tonnage. Pull-up neck pre-finishing technology - available exclusively from Uniloy on reciprocating class machines -delivers the lightest possible container neck finish for greater material savings.

An advanced B&R control manages all machines functions, including operation sequence, temperature, parison programming, diagnostics and safety system. UMR2000-3L blow molding machine systems meet all applicable worldwide safety requirements.

A wide range of head, clamp and extruder selections allows Uniloy Milacron to configure a UMR2000-3L machine to desired production volumes and container specifications. The machine line will be available in the same range of container and neck sizes as Uniloy's monolayer reciprocating machines. It can be ordered as part of Uniloy's turnkey program that covers everything from extrusion tooling, blow molds, trim tooling, trimmers, conveyors, leak detectors, along with machine installation and commissioning. Uniloy also provides turnkey services, which include plant layouts, conveying equipment, resin handling, fillers, scrap handling and cappers.

For more information, contact: Rich Smith, director of sales, UNILOY MILACRON, tel: 517-424-8967; cell 734-845-0303 or email: richard_k_smith@uniloy.com

Uniloy Milacron is the largest supplier of blow molding machines in North America with an extensive parts and service network. In addition, the company provides a full range of turnkey system services, including container design, mold development and manufacturing, prototyping and pre-production runs, and system commissioning. The company has facilities in Italy, Germany, Czech Republic, United Kingdom, Mexico and China, in addition to the U.S. For additional information, visit uniloy.com or uniloytech.com

More from Machinery & Machining Tools