Blow Molding Machine produces bottles for medical products.
Press Release Summary: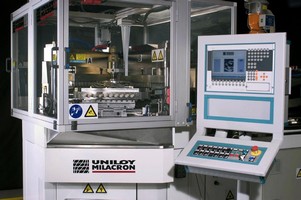 UMIB reciprocating-screw injection blow molding machine manufactures bottles for products requiring tamper evident or child-resistant closures. Available in 6 models with injection clamp forces of 39-180 tons and shot-size capabilities of 5-105 cu. in., machine can produce containers from 2 mm to 2 L. Units include magnetic mold clamping system for lower die set, carbon-filtered blowing air, SS core rods, fully electric extraction system, and nickel-plated mold area.
---
Original Press Release:

New Uniloy Medical Injection Blow Molding Machines Produce Pharmaceutical and Cosmetic Containers with 'Done In One' Precision and Efficiency



Uniloy Milacron NPE stand No. 1702 South Hall

April 2006 - Uniloy's new UMIB medical injection blow molding machines advance the state of the art for manufacture of precision bottles for medical, pharmaceutical and cosmetic products requiring tamper evident or child-resistant closures. Capable of producing containers from two milliliters to two liters with precise neck finish, wall thickness, weight and no scrap or pinch-off scar, the new design has a host of features that makes it ideal for use in sterile, clean-room applications. UMIB medical machines include a smooth-design magnetic mold clamping system for the lower die set, carbon-filtered blowing air, stainless steel core rods and fully electric extraction system, and mold area and conveyor enclosed with a pressurized, laminar flow of HEPA-filtered air. The machine's nickel-plated mold area also eliminates any chance of paint contamination and allows steam sterilization.

Six different models of UMIB machines are available, with injection clamp forces of 39 to 180 tons, and shot-size capabilities of 5 cu. in. to 105 cu. in. "Done in one" processing is accomplished using a clever triangle-shaped head, with a set of core rods on each face, that rotates 120° with each cycle to position the rods for successive steps. The design allows very high cavitation with smaller bottles, and interchangeable heads allow processing a wide variety of part sizes and shapes. The first step injection molds a preform, providing dimensional neck precision that only injection molding can produce. The preform is then blown, and finally extracted and uprighted on a conveyor belt. Core-rod temperature control is available to optimize quality and consistency.

The precision reciprocating-screw injection unit can be configured with a wide variety of screw designs and L/D ratios to process all types of resins, including PET, engineering resins, PC, PE, PP, COC, COP, PTCE and others, with virtually no variation in final part weight, even when utilizing regrind. Closed-loop control of injection speed, pressure and cavity packing ensures optimal processing with all resins. The horizontal layout of the injection unit, much like a standard injection-molding machine, facilitates quick color changes and ensures that nothing can drop into the molding area. It also allows convenient mounting of hopper dryers.

The tie-bar clamp uses heavy-duty cross arms to ensure uniform clamping pressure across all cavities. Rigid tie-bar support for the clamp provides precise mold alignment, reduces die-set bushing wear, and prevents mold flashing.

All hydraulic cylinders and components are positioned underneath or outside the mold area to prevent any contamination and permit easy access for maintenance. A closed-loop variable volume pump eliminates the need for accumulators.

A B&R closed-loop microprocessor control permits fine tuning of critical injection parameters to maximize container quality and consistency. The operator can optimize filling speed to suit the container shape, manifold design, gate and perform. Variations in resin, hydraulic temperatures and melt viscosity are automatically compensated on a continuous basis to minimize operator intervention.

Options for UMIB machines include control-based SPC/QC capability, particle counter to monitor air quality in the mold area, and hybrid or fully electric injection units built by Ferromatik Milacron in Germany.

Uniloy Milacron is the largest supplier of blow molding machines in North America with an extensive parts and service network. In addition, the company provides and full range of turnkey system services, including container design, mold development and manufacturing, prototyping and pre-production runs, and system commissioning. Headquartered in Italy, the company has a number of facilities in Europe and China, in addition to the U.S. For additional information, visit uniloy.com or uniloytech.com

Contact
Dan Meehling
Uniloy Milacron
5550 South Occidental Highway
Tecumseh, MI 49286 USA
Tel:517.424.8906
Fax:517.424.8936
daniel_meehling@uniloy.com

More from Electrical Equipment & Systems