Blow-Molded Charge Air Pipe Made of Fortron® PPS from Ticona Engineering Polymers Captures Top Honors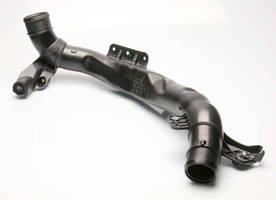 SPE European "AutomotiveAward 2009" and "Grand Award"

Florence, Ky., Kelsterbach, Germany, July 21, 2009 - A blow-molded charge air pipe made of Fortron® polyphenylene sulfide (PPS) from Ticona Engineering Polymers was awarded 1st place in the "Powertrain" category and a "Grand Award" in the collective "Parts & Components" category at the 12th Automotive Division Award of the Society of Plastics Engineers (SPE) Central Europe. The component used by VW in 2-liter diesel engines was developed by Rochling Automotive in close cooperation with Ticona, the world's largest supplier of linear Fortron PPS.

"Heat-resistant Fortron PPS, innovative processing and production optimization combine to reduce the manufacturing costs for this charge air pipe by about 25 percent vs. the same assembly made of aluminum," said Carsten W. Worner, Ticona commercial director - Europe, in describing the modified blow molding process used to produce the pipe and its integral brackets, lugs and clips made from two Fortron PPS grades.

Polymers For Eco-Friendly Innovation(TM) - Blow-molded charge air pipe made of Fortron® polyphenylene sulfide (PPS) from Ticona Engineering Polymers receives 1st place in the "Powertrain" category and a "Grand Award" in the collective "Parts & Components" category at the 12th Automotive Division Award of the Society of Plastics Engineers (SPE) Central Europe.

Demanding Specifications Met With A Single Material

The high strength and long service life demands of the charge air pipe led Rochling to specify heat-resistant Fortron PPS 1115LO, which impressed the SPE panel of judges during the June award ceremony in Dusseldorf, Germany. Ticona developed Fortron PPS 1115LO with 15 percent glass fiber content to offer higher melt strength and viscosity, especially in blow molding and extrusion processes used to manufacture high quality pipes and pipe systems with complex geometries.

The team also chose Fortron PPS FX4330T7, with its high impact strength and very good flow properties that enables injection bonding of the fastening lugs and brackets at the lowest possible pressures and temperatures with the Fortron PPS 1115LO used for the charge air pipe. The 30-percent glass-fiber-reinforced Fortron PPS grade not only meets all requirements for use in both process variants but also features improved toughness characteristics.

Excellent Example Of A Manufacturing-Based Efficiency Increase

"The cost savings derive from a combination of factors: lower reject rates than with welding, combined fabrication steps, short cycle times and higher process reliability," added Dr. Fabrizio Chini, Rochling Automotive R & D manager.

The award-winning charge air pipe also weighs about 30 percent less than the aluminum component used previously, helping to reduce fuel consumption and CO2 emissions.

"These are decisive arguments, both for automakers that have to meet increasingly stringent regulatory standards and for their environmentally conscious customers," said Matthias Schumann, segment manager automotive, Ticona.

Savings Potential Through New Bonding Process

Rochling used a patented manufacturing process it developed, known as Spritzfugen(TM) (injection bonding), to achieve the integral attachment of functional elements to the pipe during the blow molding process, which can achieve a 25-percent cost reduction.

Two of the functional elements are injection molded and bonded almost simultaneously right in the blow molding machine. In this configuration an injection unit on the blow molding machine injects the fastening lugs during the blow molding cycle. Immediately after the component is inflated, and before it has had time to cool, the integrated injection unit injects the lugs. This creates a high-strength bond between the actual pipe and the functional elements formed by injection molding. Traditionally, brackets, lugs and clips are injection molded in separate machines and then attached to the blow-molded pipe in a third processing step, either hot plate welding or vibration welding.

This process configuration offers the greatest benefits in terms of process reliability, as it requires no additional machine tool. Cycle time can also be kept very short, as blow molding and injection bonding occur almost simultaneously and the component requires no further processing. The more complex design of the combined blow-and-injection molding machine limits the number of injection-bonded functional elements that can be added.

Injection Bonding In A Separate Injection Molding Machine

To implement the more complex configuration, two more elements are subsequently attached to the blow-molded charge air pipe in a separate injection molding machine. Here the surface of the carrier part must be designed to permit the plastic melt injected onto the component to partially melt that surface. In addition, the brackets that completely surround the pipe contract as the pipe cools. Overall this process results in an extremely high strength component - about 20 percent stronger than that of the same assembly produced by conventional methods.

"This injection bonding variant allows for greater latitude in the design of the functional elements. More complex geometries can be implemented as a result," said Chini. "Injection molding machines can also be designed to permit the injection bonding of more than one add-on element at a time."

This reduces the number of additional processing steps to a minimum. It also shortens cycle time and reduces machine demand. When adding elements with the new process and the two Fortron PPS grades, it is also easier to maintain positioning tolerances than with downstream welding operations. Moreover, the overall visual effect of the component design and finished quality is more attractive.

These advantages are why VW chose to use charge air pipes made of Fortron PPS in their 125-kW 2-liter diesel engines. VW is taking a further step toward meeting the criteria of eco-friendly vehicles without compromising whatsoever on the mechanical strength or thermal resistance of the functional components.

About Fortron PPS

Fortron PPS is a linear, semi-crystalline polymer with the following properties:

o Exceptional heat resistance at temperatures up to 240 degrees Celsius

o Broad chemical resistance to automotive fuels and fluids

o Superior dimensional stability (low shrink, CTE)

o Excellent creep resistance, especially at elevated temperatures

o Potential weight savings up to 50 percent vs. metals

About Ticona and Celanese

Ticona, the engineering polymers business of Celanese Corporation, produces and markets abroad range of high performance products, and posted net sales of $1.06 billion in fiscal 2008. Ticona employs approximately 2,000 individuals at production, compounding and research facilities in the USA, Germany, Brazil and China. For more information, please visit www.ticona.com or www.ticona.cn (Chinese language).

As a global leader in the chemicals industry, Celanese Corporation makes products essential to everyday living. Our products, found in consumer and industrial applications, are manufactured in North America, Europe and Asia. Net sales totaled $6.8 billion in 2008, with approximately 65% generated outside of North America. Known for operational excellence and execution of its business strategies, Celanese delivers value to customers around the globe with innovations and best-in-class technologies. Based in Dallas, Texas, the company employs approximately 8,350 employees worldwide. For more information on Celanese Corporation, please visit the company's website at www.celanese.com.

Except where indicated otherwise, all registered trademarks are owned by Ticona or its affiliates.

Spritzfugen(TM) is a trademark of Rochling Automotive.


More from Architectural & Civil Engineering Products